China Plays It Coy on Xi-Abe Meeting
Despite growing speculation that a Xi-Abe meeting is in the cards, Beijing is sticking to its guns.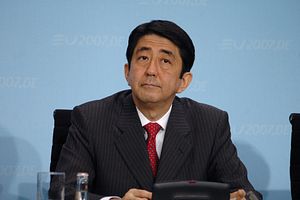 With less than two weeks to go before the APEC Economic Leaders Meeting in Beijing, there are widespread expectations that Chinese President Xi Jinping will have his first-ever meeting with Japanese Prime Minister Shinzo Abe. But while Japanese and Western media outlets have repeatedly reported that a meeting is in the works, China's own media has been silent on the issue.
On Wednesday, a commentary published in Xinhua addressed the speculation that Xi and Abe will meet. "No matter how the guess[ing] game would unfold, a simple truth remains: the ball is in Japan's court for the two Asian neighbors to thaw their icy relations," the piece declares. The article acknowledges  the significance of China-Japan relations and calls for their relationship to be "put back on a normal track," which presumably would involve having their top leaders meet for the first time since both men took office in 2012. But the piece argued that the "onus" for repairing the relationship "is first and last on Abe."
The Xinhua commentary matches with the long-standing position of Chinese officials. In a press conference on Monday, Foreign Ministry spokesperson Hua Chunying was asked if a trip to China by former Japanese prime minister Yasuo Fukuda would "pave the way" for a meeting between Xi and Abe on the sidelines of the APEC summit. Hua responded, "Our position on improving and developing bilateral ties with Japan has been made clear on multiple occasions. China's attitude and position remain unchanged."
China's position on relations with Japan (and more specifically on a Xi-Abe meeting) includes three demands, which are reiterated in the Xinhua piece. First, Japan must adopt "a proper attitude" toward history. In China's eyes, that means Tokyo must stop "whitewashing Japan's militarist past" and have Abe "abstain from visiting the Yasukuni Shrine." Second, Japan should admit the existence of a dispute over the Senkaku/Diaoyu Islands and "work with China to settle it in a peaceful way." Third, Abe should "clarify" his administration's intentions in easing restrictions on Japan's military, so that China and other regional countries can be sure Japan is not seeking a return to militarism.
Given that most foreign news outlets are reporting that a Xi-Abe meeting is all but set, it's interesting that Xinhua is redrawing Beijing's line in the sand. Practically speaking, this hints that China has already received assurances from Abe that will at least partially satisfy the preconditions for a Xi-Abe meeting. Otherwise, China's state-run media would be not reemphasizing those demands.
As The Diplomat has covered, Japanese media reports indicate that Abe is willing to acknowledge that China also claims the Senkaku/Diaoyu Islands – effectively acknowledging that there is a dispute – even while reiterating Tokyo's stance that the islands belong to Japan. As Ankit and I discussed on last week's podcast, this would effectively allow both China and Japan to "shelve" the dispute while their governments conduct long-term negotiations over the issue.
When it comes to China's other two demands, however, the picture is far more mixed. Abe has refrained from visiting the Yasukuni Shrine so far this year, but he has sent offerings. Plus, several of his Cabinet members have visited the shrine. Japanese media reports suggest it's unlikely that Abe will publicly promise to avoid visiting Yasukuni, although it is possible he will give private assurances to Beijing. Other than that, there's little reason to believe Abe will change his stance on historical issues, given his need to keep support among Japan's conservatives.
It's just as unlikely that China will be satisfied by any explanation Abe has to offer on his idea of "proactive pacifism." Abe has explained this concept numerous time and Beijing remains convinced that it is an aggressive, militaristic strategy. This impasse is not going away any time soon. Michael Green of CSIS rightly points out that the major cause of tensions between China and Japan is structural – both sides have differing goals for the future of power distribution in the Asia-Pacific. As a result, Abe sees his "proactive pacifism" as a necessary step to defend Japan's interests in the face of a rising China, while Beijing sees a remilitarized Japan as major threat. That fundamental dichotomy is not going away, no matter what explanations Abe offers Beijing.
Earlier this month, the Asahi Shimbun, quoting China's ambassador to Japan, indicated that Beijing was "sensing changes in (the Japanese side's recent) positive moves." This attitude has not been reflected in China's state media or in official pronouncements from Beijing, however. If, as expected, we see a brief meeting between Xi and Abe, it will likely be accompanied by more substantial outreach from Tokyo given China's firm insistence on its conditions. As the Xinhua article concluded, "The Japanese prime minister has openly called for a meeting with Xi. Now it is advisable and imperative that he match his words with deeds."