Clash Over Forced Eviction Leaves 8 Dead in Yunnan, China
Plus, Taiwan's moves in the South China Sea and an update on the Hong Kong protests. This week's China links.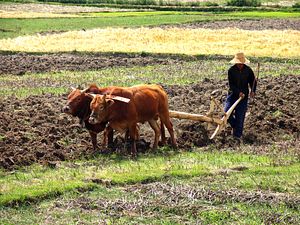 This week's China links:
More details are emerging about a deadly clash between residents and construction workers in China's Yunnan province – and it's grisly news. On Tuesday, Chinese officials reported eight people dead after a violent clash outside Kunming, the provincial capital. Villagers fighting against a forced eviction clashed with resulted in violence that claimed the lives of six construction workers and two villagers. Another 18 people were injured.
Now, the Kunming government is reporting that some of the construction workers were killed by being burned alive by angry villagers armed with gasoline. The villagers, meanwhile, claim that the construction workers were accidentally burned to death by Molotov cocktails thrown by their own colleagues. Austin Ramzy of the New York Times covers the new details, which make the Kunming incident not only one of the more deadly clashes over forced evictions, but one of the most gruesome.
The incident, which took place in a rural area of Kunming, once again demonstrates the issues related to "small villages in big cities." These rural areas just outside large cities have become increasingly valuable real estate as urban sprawl sets in – creating an atmosphere rife for corruption by local village leaders and other low-level officials. In particular, the seizing of villagers' land (with little or no compensation) brings huge profits to local leaders, who can then sell the land to corporations. This practice is behind most of China's mass protests today, including the horrific incident in Kunming.
In other news, Want China Times reports that Lee Shying-jow, the director-general of Taiwan's National Security Bureau, is concerned about China's land reclamation projects in the South China Sea. WCT, citing reports from the Hong Kong newspaper Ta Kung Pao, says Lee made the remarks before Taiwan's Legislative Yuan. While our own Zach Keck covered the news that Lee claimed China's naval chief had personally toured the projects, the WCT report contains the additional detail that Taiwan believes the land reclamation is a threat to its own national interests. A KMT legislator, Lin Yu-fang, said that new installations, which are widely expected to serve as military bases, could be used to threaten Taiwan's control over Taiping Island, the largest of the Spratlys.
Those concerns may be a driving factor behind the recent news (from Reuters) that Taiwan is weighing the option of permanently stationing armed ships on Taiping Island. Taiping's port is currently being expanded. When the construction is finished at the end of 2015, the port would be large enough to accommodate 3,000 ton naval frigates as well as coastguard cutters. According to Reuters, Shih Yi-che, the head of communications for Taiwan's Coast Guard, said Taipei was considering using Taiping as a permanent base for several vessels. "The purpose of this action would be to promulgate the Republic of China's sovereignty and power in defending our territory around Taiping Island," Shih said.
Vietnamese and Philippine officials have already protested that idea, while China has responded positively. "Taiwan and the mainland are both part of one China. Relevant activities by Chinese people in the Spratly islands and its nearby seas, including on Taiping, are beyond reproach," China's Foreign Ministry said in a statement to Reuters. Reuters suggests that China applauds the move because it hopes to eventually reunify with Taiwan — which would give Beijing ultimate control over Taiping Island and its strategically located port.
Finally, this week's update on the Hong Kong protests: police have been gradually removing protestors from various sites around the city, resulting in scattered episodes of violence (including the beating of one protestor in an incident that was caught on video and widely decried by the public). Once again, the densely populated area of Mong Kok has been a particular flashpoint, with police using batons and pepper spray in n attempt to clear out protestors. South China Morning Post has more.