How Vietnam Woos China and India Simultaneously
In managing relations with India and China, Vietnamese diplomacy has grown dynamic and creative.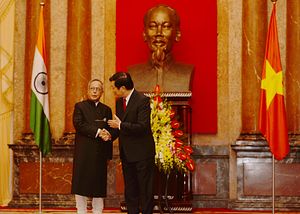 Vietnam is a master of using its multilateral relations with external powers to insulate itself from unwanted pressures from any of the major powers. Vietnam's agility to pursue multilateral balancing will be put to the test this week by two separate but interrelated events.
First, China's State Councilor Yang Jiechi will return to Hanoi for a two-day visit from October 27-28 to attend the seventh Vietnam-China Steering Committee for Bilateral Relations. Second, simultaneously, Prime Minister Nguyen Tan Dung will travel to India for a three-day visit from October 27-29.
Council Yang last visited Hanoi on June 18, ostensibly to attend a "leaders' meeting" of the joint Steering Committee according to Chinese sources cited by Kristine Kwok of the South China Morning Post. This meeting solely focused on the oil rig crisis and was marked by the public exchange of recriminations over South China Sea sovereignty disputes.
The joint Steering Committee for Bilateral Relations held its first meeting in Hanoi in November 2006. The second meeting was held two years later in Beijing in January 2008. The next three meetings were held on an annual basis alternating between Hanoi (March 2009 and September 2011) and Beijing (July 2010). The most recent numbered meeting of the Steering Committee, the sixth, was held in Beijing in May 2013.
The convocation of a leaders' meeting under the framework of the joint Steering Committee appears unprecedented. The holding of two meetings of the Steering Committee in such a short space of time is also unprecedented.
The public announcement that Councilor Yang will co-host the seventh meeting of the joint Steering Committee only four months after the contentious June leaders' meeting is an indication that China's top leaders are willing to engage with Vietnam to reset their bilateral relations, which were severely strained by the oil rig crisis. Yang will co-host the seventh meeting with his counterpart, Deputy Prime Minister Pham Binh Minh. Both sides will review the entire spectrum of bilateral relations, including their dispute in the South China Sea. There should be no public recriminations over their South China Sea dispute on this occasion.
In the past Chinese and Vietnamese leaders have called for "taking the larger view" of their bilateral relations in order not to let any one irritant from dominating. Prior to this meeting, a spokesperson for China's foreign ministry said that bilateral relations had encountered "temporary difficulties" and China was willing "to push forward" their comprehensive strategic cooperative partnership.
Also prior to this meeting, Vietnam asked China to remove its travel advisory to allow for the restoration of cross border travel including tourism.
Yang should accentuate the positive in his public remarks. If bilateral relations are reset then the joint communiqué coming out of this seventh meeting should restate China and Vietnam's mutual commitment to increased trade and investment, infrastructure development, and the resumption of working level government-to-government discussions on the South China Sea. Yang and Minh are also likely to discuss the modalities of a high-level meeting of their respective leaders on the sidelines of the forthcoming APEC Summit.
Meanwhile, Prime Minister Nguyen Tan Dung will be in Delhi for discussions with his counterpart Prime Minister Narendra Modi to boost their strategic partnership. India became Vietnam's third strategic partner in 2007 after Russia (2001) and Japan (2006), and before China (2008).
Prime Minister Dung's visit comes after the election of the Modi government and trips to Hanoi by India's Minister for External Affairs Sushma Swaraj in August and President Pranab Mukherjee in September. These visits reflect the Modi's government policy to not only "Look East" but to "Act East."
India's Ministry of External Affairs said Dung's visit would focus on increasing economic engagement between Vietnam and India. Prime Minister Dung will be accompanied by a delegation including 50 businessmen. Modi and Dung are also expected to discuss regional security issues and energy.
In terms of economic engagement, the Indian press reported that Vietnam was seeking to import more polyester fabrics and yarns from India to lessen its dependence on Chinese suppliers. Bilateral trade between India and Vietnam has already passed the target of $7 billion set for 2015 and is likely to be raised. Discussions will also touch on aviation, education, science, technology, and tourism.
The sub-text of India-Vietnam economic cooperation is to lessen Vietnam's dependency on China. One possible development bears watching: whether or not India's ONGC Videsh Ltd. will take up an offer of additional oil exploration blocs in the South China Sea despite Chinese objections. India and Vietnam share convergent security concerns about China growing military power. A stronger economic relationship will compliment long-established defense ties.
China and Vietnam both share convergent interests in keeping their bilateral relations peaceful and on an even keel. Vietnam's expanding strategic partnerships with Japan and India provide an added incentive for Beijing to compete for influence in Hanoi.
Vietnam policy of multilateralizing its external relations requires deft diplomacy to play on the interests of each of its strategic partners. Each strategic partner must assess that it has more to gain by engaging with Vietnam than by non-engagement or confrontation.