Japan Can't Ratify the TPP This Year
Despite positive spin from his allies, Abe cannot afford the TPP's political backlash.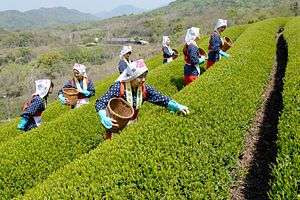 The latest round of Trans-Pacific Partnership (TPP) talks between the prospective trade ministers concluded on Monday in Sydney. Despite the fact that progress on the TPP seemed to have stalled by late summer, the U.S. and Australian sides remained positive throughout the weekend-long discussions. The largest remaining sticking point for successfully concluding the agreement still remains Japan's protection of its sensitive agriculture and automotive industries, both of which have powerful political lobbies that even the dominant LDP must heed. Despite Prime Minister Shinzo Abe stating early in his administration that Japanese membership in the TPP was a key policy goal, it does not appear that he currently has the political capital to push a decision through, despite his party holding a majority of seats (through its coalition with Komeito) of both houses in the Diet.
Before the three days of trade minister meetings began, Australian Trade Minister Andrew Robb said that there had already been substantial progress made this year, and that "we are working now to try and conclude this agreement by the end of this year." He later said that despite TPP's ongoing problems, "we are at a point where we are trying to make as many final decisions as we can and bring this thing to completion." Aside from Japan's concerns other potential members and observers have voiced concerns that the agreement does not adequately protect intellectual property (IP) rights, and that it could lead to higher prices for medicine, increased environmental damage, and even greater restriction to Internet access. During the meetings Robb said the biggest danger was that the talks may stall over these issues, but he remained hopeful that they would move "to a point where this thing can be completed sometime next year…"
On Monday the U.S. and Japanese ministers held bilateral talks, as their agreement on trade issues would facilitate Japan's ability to meet the trade bloc's larger requirements. However, even talks with Japan's closest ally have not been enough to budge Tokyo on opening its protected industries to competition. Before the Monday talks began, Japan's TPP Minister Akira Amari said the two countries had made some headway during working-level talks, and that their bilateral meeting was "designed to make headway toward resolving major issues."
The statements coming from all sides, but particularly the U.S. and Australia, emphasized how much progress had been made by the time negotiations wound down on Monday. Robb said "there is a real sense that we are within reach of the finish line…" and that there is "preparedness to make some of the difficult decisions," including those on IP market access (which was a nod toward Japan's protected industries.) While U.S. Trade Representative Michael Froman also acknowledged remaining hurdles, he was perhaps more effusive. He said there are still "outstanding issues" and that "on agriculture, on autos… we are not done yet." Yet he also praised Amari's efforts, saying the challenge is "to translate the bold vision that Prime Minister Abe has laid out into similarly ambitions objectives," and that he hoped Japan will continue to make compromises.
The statements from Amari himself were much less optimistic. While the U.S. in particular has remained optimistic that a broad agreement or framework for the TPP can be agreed upon by the end of the year, Amari indicated it would probably be delayed until next year. Specifically, he said "there is no prospect for an agreement on market access (between Japan and the United States) at the moment," although he did say he expected both sides to eventually reach satisfactory results. He also indicated he will hold one more round of bilateral talks with Froman before the November APEC Summit in Beijing.
Indeed, with all 12 prospective TPP members attending the APEC Summit, Robb said they are considering holding a ministerial level meeting on the sidelines of those talks. However, as the trade group now stands, Japan would either have to be removed or the pact so watered down as to render it meaningless for an agreement to be reached. The U.S. is putting a positive spin on the talks as a whole and Japanese efforts in particular, but in reality the Abe administration is not in a position to make a bold decision on trade.
Right now Abe is beset by Cabinet scandals and declining approval ratings. Over the next few months he will have to make perhaps an even more unpopular decision over whether to further increase the consumption tax, and unlike the TPP talks, that choice cannot be put off without either significant political or financial consequences. While the TPP was a large part of his political agenda when he took office in December 2012, quite a bit has changed since then. In the interim the TPP has fallen out of public statements, especially as the economy took a large quarterly downturn following April's initial consumption tax increase from three to five percent. As Abe is expected to decide on the follow-up increase sometime this December, he is unlikely to make an equally unpopular economic decision at the same time. Having Japan come to a broad agreement on the TPP, even by early next year, is looking ever more remote.