North Korea Says US Trying to 'Ignite a Nuclear War'
North Korea slammed former Defense Secretary Leon Panetta's new memoir, and said it is ready for nuclear war.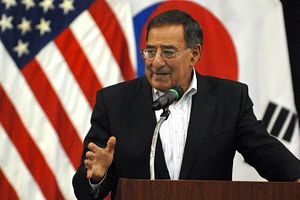 North Korea slammed former U.S. Defense Secretary Leon Panetta last week, and stated that it remains "fully ready" for nuclear war.
As previously noted, former U.S. Defense Secretary Leon Panetta wrote in his new memoirs that the U.S. planned to use nuclear weapons "if necessary" in the event of a North Korean invasion of South Korea.
"If North Korea moved across the border, our war plans called for the senior American general on the peninsula to take command of all U.S. and South Korean forces and defend South Korea—including by the use of nuclear weapons, if necessary. Our forces maintained a readiness posture that allowed them to 'fight tonight,'" Panetta wrote in Worthy Fights: A Memoir of Leadership in War and Peace.
On Thursday, North Korean state media released a statement attributed to a spokesperson of the National Peace Committee of Korea, which is a unit of the Korean Workers' Party [KWP] United Front Department. The United Front Department is responsible for waging psychological warfare against South Korea, and often releases statements on behalf of the DPRK regime.
In the statement, Pyongyang noted that while the U.S. often stages "large-scale nuclear war maneuvers" in South Korea, Panetta's memoir was the "first time that a U.S. war boss openly declared that it would use nuclear weapons against the DPRK."
It said Panetta's revelation was driven by "ulterior intention[s];" namely, to hype the North Korean nuclear threat, justify the U.S. deploying missile defense systems in South Korea and, especially to undermine recent progress in inter-Korean relations.
The Panetta comments, the statement said, show how "zealously" the U.S. is "trying to foil the inter-Korean relations, escalate confrontation and thus ignite a nuclear war on the Korean Peninsula."
The statement also reiterated that it was "aggression" like Panetta's comments that had compelled it to seek nuclear weapons in the first place. "The situation goes to prove how just the DPRK was when it decided to develop nukes and bolstered nuclear deterrent for self-defense to cope with the U.S. nuclear threat."
In that vein, the National Peace Committee of Korea pledged that North Korea was ready for nuclear war. "We are fully ready to counter any war of aggression including a nuclear war and the U.S. reckless attempt for using nuclear weapons will meet a miserable ruin."
North Korea was not the only one upset about Panetta's new memoir, as the Obama administration has also taken strong issue with its depiction of the president's leadership.