Senior North Korean Official Gets Sent for 'Re-education'
Choe Ryong-hae, a senior North Korean official and frequent diplomatic envoy, has been punished for incompetence.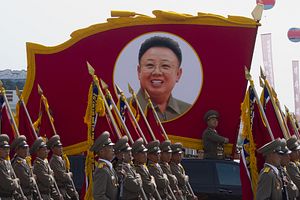 New rumblings out of North Korea suggest that Kim Jong-un's seemingly unending power-consolidation process continues. Specifically, the mystery of where Choe Ryong Hae, a former "key aide" to Kim Jong-un and de facto regime number two at one point, went appears to have been resolved. Choe's status has been the subject of speculation for North Korea watchers after he didn't appear on a list prepared for the state funeral of a senior North Korean military official earlier this month.
Based on credible reports from South Korean intelligence, Yonhap reports that Choe was sent to a local farm as punishment for his mishandling of a power station construction project. In addition to Choe's alleged incompetence, South Korean intelligence suggested that Kim and Choe encountered personal disagreements. Choe, secretary of the Worker's Party of Korea (WPK), is reportedly set to receive "re-education" through hard labor.
Choe's story within the North Korean regime drew attention when, after the execution of Kim Jong-un's uncle Jang Song-thaek, he was elevated as the second most powerful figure in the regime. (Choe and Kim share family ties as well; a report earlier this year noted that Kim's younger sister married Choe's son.) Matters become blurry thereafter and, in April 2015, Hwang Pyong-so effectively confirmed his claim to the title of "number two" when he was given membership in the politburo presidium of North Korea's Workers' Party of Korea. Hwang's additional role as the top political officer in North Korea's military put him above Choe and ended speculation on Choe's claim to that role.
Choe is also notable in North Korea for having repeatedly acted as an envoy. In late-2014, he traveled to Russia, accompanied by a delegation of senior North Korean officials. Choe hand-delivered a missive from Russian President Vladimir Putin to Kim Jong-un. More recently, Choe headlined the North Korean delegation to China—a development that was seen by experts at the time as a particularly important responsibility. Though China is North Korea's closest ally and historical benefactor, ties between the two countries have suffered in recent months. (SinoNK's Adam Cathcart and I discussed the status of their relationship on the podcast here at the Diplomat in September.)
Yonhap notes that Choe "seems to be able to be reinstated." Indeed, if he was sent for "re-education," it suggests that Kim may not be looking to execute him. Choe may yet avoid the fate that befell Jang Song-thaek, Choe Yong-gon, Hyon Yong-chol, and around 70 other officials since coming to power. This is actually the second time in recent memory that Choe has been removed from the North Korean leadership scene. Last spring, he was thought to have been purged after a lengthy disappearance from official life. He reappeared  in official footage later, exhibiting a limp.