South Korea: Spring Jailed Tycoons to Save Economy?
Two South Korean government ministers offer up a very bad idea.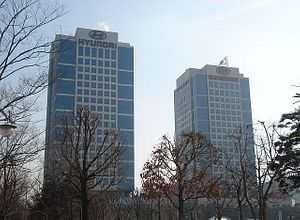 In May, North Korea called South Korea's President Park Geun-hye a prostitute, and Barack Obama a "wicked black monkey." The shock was twofold. Had Pyongyang no shame? And did they not grasp how this made them look, in the world's eyes?
Such questions must now be put to Seoul. Here the language is less foul, but the idea stinks. A campaign has launched for business leaders jailed for financial crimes to be pardoned. On this view, their talents are urgently needed to kick-start the economy out of stagnation and slump.
This suggestion comes from the top, and those who should know better. On September 25 the Justice Minister, Hwang Kyo-ahn, said the government should consider pardoning convicted tycoons if they "contribute to job creation and economic recovery." Next day this sentiment was echoed by the Minister of Strategy and Finance, Choi Kyung-hwan, who added that "it would not be helpful in reviving the economy if laws are enforced too strictly."
Such calls, hard to imagine in any other OECD member state, are deeply dismaying. It should not be necessary to spell out all the reasons why this is a thoroughly bad idea. But here are seven.
First, what crisis? South Korea, the world's 7th largest trading nation, has low inflation, quite low unemployment, and expected GDP growth of 3-4 percent in 2014-15. There is no emergency. These are in no way desperate times, such that anyone need contemplate desperate measures.
Second, this is the wrong remedy. Dynamism will not come from boosting the already over-mighty chaebol, let alone criminals. President Park Geu-hye's "474" policy package rightly prioritizes smaller firms. For too long cast as South Korea's Cinderella, SMEs are a better bet than their big ugly sisters on all fronts: fresh thinking, novel sources of growth, and new job creation.
Third, it is a shameful U-turn. Park's key campaign pledge, which won her election in 2012, was economic democracy. Recognizing the negative impact of grossly unequal economic power, she vowed to create a better balance. That was the right thing to do; this is not.
Fourth, it undermines the rule of law. South Korea's judicial independence was hard-won, against dictators like Park's father. Businessmen in jail are there because courts have duly convicted them of serious crimes. Waving a Monopoly-like "get out of jail free" card might have been done in the past, but today it makes a mockery of due process.
Fifth, it would make Seoul a laughing-stock. Respectable countries do not do this. Anywhere else, a businessman jailed for fraud would resign: The End. If Chey Tae-won, the head of SK, finds it hard to make investment decisions behind bars, the answer is not to spring him but to ask how on earth a man serving four years for embezzlement – his second jail term for financial crime – can still be running the third largest chaebol, from which he stole $42 million?
Sixth, remember the stock in laughing-stock. Making governance a joke hurts the bottom line. The notorious "Korea discount" prices in such antics, as Hyundai Motor recently reminded us. Paying $10 billion, three times valuation, for a prestige headquarters site in Gangnam proved even costlier than that: shareholders dumped the stock, wiping $11 billion off the group's market capitalization. HM's board allegedly were not told the bid price. Yet group chairman Chung Mong-koo – another embezzler ($110 million), later pardoned – still defends this purchase.
Seventh, are the lessons of 1997-98 forgotten already? The ghosts of crises past stalk the land, unrepentant. Kim Woo-choong, founder of Daewoo – once the number-two chaebol by assets – which collapsed in 1999 owing $84 billion, has a new book out. Jailed for ten years in 2006 for a $43 billion accounting fraud but freed after just 18 months, and still owing $17 billion in unpaid fines, Kim blames not himself but politicians and officials for Daewoo's demise, and professes to believe it could and should have survived. Not a few Koreans still see him as a national hero.
Even Samsung, by far the largest chaebol, is a curate's egg. Chairman Lee Kun-hee is a business genius, but he too has a conviction (tax evasion). Now ailing, he is passing the reins to his son Jae-yong; as if Samsung were North Korea, rather than 74 global companies – many publicly quoted – with revenues of $387 billion. Samsung's 369,000 employees, and its hitherto supine shareholders, must hope this third generation successor proves more able than Kim Jong-un.
The chaebol built South Korea, but now many are dinosaurs. Cutting corners is never a virtue, as the Sewol ferry tragedy showed. Cheating your firm is not a misdemeanor, much less a necessary evil, but a serious crime. No fair society can have different laws for rich and poor.
Nor, especially since 2008, can corporate governance be portrayed as a Western plot against Korea. In 2003 SK's Chey played the nationalist card to see off an investor challenge after his first spell in jail, for a $1 billion accounting fraud. He surely cannot pull the same trick twice.
Elsewhere in Asia governance is improving, but an influential report found Seoul backsliding even before the latest events. While ministers mull freeing convicted tycoons, South Korean prosecutors are probing yet another – Kumho-Asiana's chairman Park Sam-hoo, locked in a value-destroying feud with his brother – for suspected embezzlement. Plus ça change.
Globalized capitalism in the 21st century is not Jurassic Park. Releasing rightly caged raptors solves nothing, in Seoul or anywhere. Chaebol chiefs who treat publicly quoted firms as their private fiefs and piggy-banks have long been Korea's problem; how can they be any kind of solution?
On the stump in 2012, Park Geun-hye vowed that "presidential pardons should not be abused" – especially for "tycoons convicted of corruption." She was absolutely right. To date, despite this ministerial kite-flying, no fresh pardons have been issued. Those who have perpetrated crimes remain in jail, as justice demands. One has to hope the lady is not for turning.
Aidan Foster-Carter is Honorary Senior Research Fellow in Sociology and Modern Korea at Leeds University, England.