Can Samsung's Note 7 Discontinuation Shake the South Korean Economy?
Samsung Electronics' mobile devices account for roughly 2 percent of South Korea's exports.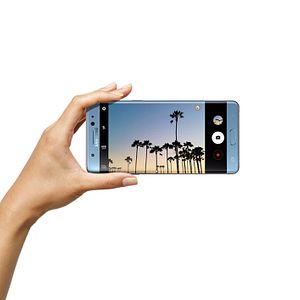 On October 11, South Korean electronics conglomerate Samsung decided to halt global sales of its Galaxy Note 7 smartphone, developed and manufactured by its Samsung Electronics subsidiary. The decision came after an initial global recall amid sporadic battery fires in the device. After issuing replacement phones to customers around the world, certain Note 7 devices continue to catch fire, suggesting that the company had been unable to satisfactorily diagnose and fix the issue.
In reaction to Tuesday's news regarding the Note 7, Samsung's share price took an unsurprisingly large hit. The Wall Street Journal reported that "Samsung shares tumbled 8%, its biggest one-day decline in eight years, far outpacing the broader South Korean market's 1.2% pullback." Mainstream news and tech blogs alike have highlighted the negative impact of the Note 7 discontinuation on Samsung as a company, but lost in the coverage is the potential for the Note 7 imbroglio to feed back into the broader South Korean economy.
Samsung, along with LG and Hyundai, is one of South Korea's big-three chaebols, or industrial conglomerates. Each of these three companies is ultra-massive and accounts for a significant portion of South Korea's overall economic output and productivity. Samsung's revenue alone accounted for 23 percent of South Korea's GDP, per 2014 data released by the South Korean Ministry of Finance. (Along with Hyundai, the two companies accounted for more than a third of South Korean economic activity.) Samsung Electronics' mobile devices account for 2 percent of South Korean exports.
South Korean Finance Minister Yoo Il-ho told reporters that the government is closely watching the effects of Samsung's Note 7 discontinuation. Yoo's aides, according to the Journal, note that the halt in sales "could negatively impact the country's export figures."
It's too early to tell just how severe the longer term damage from the Note 7 discontinuation might be on Samsung's broader smartphone business. Reuters notes that Credit Suisse analysts anticipate that the lost sales from the Note 7 could amount to a $17 billion loss, single-handedly wiping out any profits from the company's smartphone division.
Moreover, given the widely publicized nature of the Note 7's battery fire issues, including announcements on commercial airliners that passengers need to disable their Note 7s, it is possible that consumers may lose trust in Samsung's other smartphone brands, including the flagship Galaxy S series, which competes with Apple's popular iPhones. (The Galaxy S series outsells the Note series of phones roughly three-to-one.)
Samsung's shrinking smartphone margins, combined with weakening demand, had already hurt its profitability, and the Note 7 crisis may turn what was expected to be a bad year into a terrible year. Predicting the impact of Samsung's woes on the broader South Korean economy with any precision at this point is difficult. Broadly, South Korea's economy, while strong on a global scale, is experiencing a slowdown. Unemployment data released Wednesday showed a slight uptick in the unemployment rate, which remains very low at 3.6 percent overall. (Youth unemployment, meanwhile, stands at 9.4 percent.)