The Islamic State's Potential Recruits in Pakistan
There is evidence that the terrorist outfit is actively recruiting fighters in the troubled country.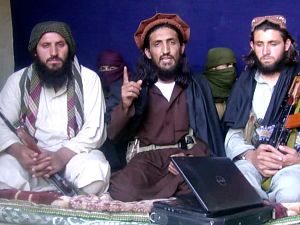 Tanned, green-eyed, long-bearded Pashtun crossing the border from Afghanistan have never been so feared in Peshawar, the capital city of the North West Frontier Province of Pakistan. Through history this region has been one of the busiest in Central Asia, connecting travelers, traders and storytellers to India and beyond. But the recent decade has been agonizing for local Pashtun, with their identity and geography appropriated by militant groups like al-Qaeda and the Taliban, as well as their various factions in the region. This week brought the biggest blow yet, when the formidable Islamic State (IS, also known as ISIS and ISIL) was discovered openly recruiting in the city.
Local fighters in Peshawar and FATA were seen to be showing around about a dozen men who had crossed over from Afghanistan to Pakistan to promote the cause of the caliphate. These men in turn distributed hundreds of pamphlets in Peshawar and its environs.
For fighters and militant commanders in Pakistan, the Islamic State is an object of awe. Most militants, individually and in groups, romanticize the idea of Islam and sharia spreading across the world. In essence, the idea and ideals of a unified caliphate has aroused jihadists everywhere, multiplying the Islamic State's following in Pakistan and Afghanistan much more rapidly than was achieved even by heavyweights like the Taliban and al-Qaeda.
Amanullah Khan, a former professor at Peshawar University who worked for many years trying to de-radicalize youth, said that IS leader Abu Bakr al-Baghdadi is an appealing figure for young followers with a jihadi mentality, with his background as an Islamic scholar playing a stronger bonding role for impressionable youth. Unlike Osama Bin Laden and Aymen al-Zawahiri, respectively an engineer and doctor, jihadists who were less immersed in knowledge of Islam, Baghdadi offers both a traditional Islamic education and an abundant jihadist resume. "That legitimacy can definitely turn a lot of al-Qaeda and Taliban supporters in the region, and in fact it is already happening," says Khan.
With at least 48 known jihadist groups in Pakistan, IS would seem to have plenty of potential to grow within the country.
Lashkar-e-Jhangvi, a banned militant group that wants to establish Pakistan as a Sunni Muslim state, Tehreek-e-Taliban Pakistan, and offshoots of al-Qaeda and the Haqqani Network are just a few of these groups. The Pakistan military has long been accused of providing opportunities, logistics and sponsorship to these groups in exchange for their proxy services. With the popularity of right-wing religious parties swelling in every city, Pakistan has become a hotbed for new recruits. IS is now tapping these resources, and given Pakistan's porous borders with its neighbors, it could give the group the foothold it needs to establish a presence in South Asia.
Operation Zarb-e-Azb, the military operation in North Waziristan, has displaced more than one million local civilians from the region, yet the army has still not been able to decisively defeat the militants it was targeting. In fact, recent reports suggest that most top commanders of both Haqqani and Pakistani Taliban left Waziristan prior to the operation. Some crossed the border and escaped into Afghanistan, while others scattered to relocate in the north of the country in the Federally Administered Tribal Areas, or in Karachi in the south.
The Pakistani military recently claimed that had 901 militants had been killed in the Waziristan operation, but these figures are refuted by local sources as well as militant groups themselves, who claim to have escaped the operation. And in fact the government has not been able to identify the militants it says it has killed.
At any rate, the Pakistan Taliban has been able to re group. More disturbingly, Omar Khalid Khorasani – a former Pakistan Taliban leader who has strong links with both al-Qaeda and its leader Zawahiri – has apparently now established a new group called Jamat-ul-Ahrar, which he insists is the "real Taliban" in Pakistan. According to Khorasani, more than eighty percent of Taliban fighters and commanders from different regions and militant groups across the country have joined his new outfit, which is a staunch supporter of the Islamic State.
Recent weeks have offered Pakistan's militants a unique opportunity, with the country in the grip of political instability. The struggle between elected Prime Minister Nawaz Sharif and politician Imran Khan – a former cricketer best known these days for his ability to orchestrate mobs – has shaken this fragile democracy. Both the media and state shifted their focus from jihadist developments, allowing the militants to regroup.
According to at least a dozen sources in Peshawar, including fighters who say they have returned from Syria, IS has been recruiting in Pakistan for some time. Many fighters from anti-Shia militant groups in Pakistan sign up, and were initially tasked to fight the Assad regime.
In Sistan and Dasht, two regions in Balochistan bordering Iran – Balochistan is Pakistan's largest province with its own ongoing separatist movement – locals have found wall markings with similar messages. According to a few local Baloch, there are more than a hundred militants from Lashkar-e-Jhangvi and other anti-Shia groups in these areas.
Although evidence of these activities was present before, they passed largely unremarked until IS began to advertise publicly. Local reporters who might have been familiar with the recruiting avoided reporting out of fear for their lives.
All this now means that collaboration is possible between some of the most hardline and unbending regional groups in Pakistan and IS in the Middle East. And the most striking and high-profile support that IS may be able to count on in Pakistan comes from Jamat-ul-Ahrar, the newly formed group. Ehsanullah Ehsan, spokesperson for Jamat-ul-Ahrar, is clear on the group's plans to fight along with the Islamic Caliphate, "We consider every mujahid (fighter for Jihad) as our brother." He added, "Islam is a religion of peace. We want implementation of this system. We'll continue our armed struggle until we implement Shari'ah in Pakistan."
With hardline groups in Pakistan offering safe haven for the Islamic State in this region, while simultaneously pursuing their own local goals, and with younger fighters and groups inspired to join the cause of the caliphate, the security situation looks set to deteriorate not just in Pakistan but throughout the region. The Pakistani military has failed five times since 2007 to crush the jihadist groups. Now, commanders who say they have left al-Qaeda and sworn allegiance to Abu Bakr al-Baghdadi may form a force that is beyond the military's ability to contain.