The Pivot and Democratic Regression in Southeast Asia
Could the U.S. pivot to Asia have encouraged authoritarianism in the region?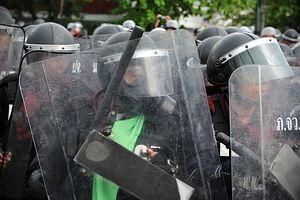 This past week's serious challenges to democracy in Indonesia, on the heels of what had been a successful presidential election in July, should serve as a reminder that, while the region has made strides since the 1980s and early 1990s, democracy is far from entrenched in Southeast Asia. Retrograde forces, like the coalition of politicians allied with Prabowo Subianto in Indonesia, continue to stand in the way of democratic reforms. In some Southeast Asian nations, such as Thailand and Malaysia, anti-democratic forces have been highly successful in reversing progress toward democratization. Malaysia has regressed from the cusp of democratization to a more repressive state, and one in which unelected sultans, many of them totally unfit for leadership, are again wielding major political power. Thailand, which in the 1990s was considered one of the success stories of democratization throughout the developing world, now is run by a coup government building a cult of personality around coup leader Prayuth Chan-ocha and implementing as draconian laws as the brutal Thai regimes of the 1950s and early 1960s. (Tyrell Haberkorn of Australian National University has written incisively about how the current Thai junta has copied many of the methods and laws of the 1950s- and 1960s-era juntas.) Myanmar has regressed from the reforms of 2012 and 2013, while Vietnam has continued to crack down harshly on dissent, following four years of intense crackdowns. This week in Hong Kong, where nearly all public demonstrations have for decades gone on peacefully, security forces unleashed a brutal crackdown on pro-democracy activists.
What role does the U.S. pivot to Asia, which has been more effectively implemented in Southeast Asia than in the rest of the region, play in this democratic regression in Southeast Asia? Has it played any role at all? I am currently in the midst of research on the pivot and I have some conclusions—I do think the Obama administration's engagement with Southeast Asia, though in some ways positive, has facilitated democratic regression. It is of course not the sole factor responsible for democratic regression in the region, but it has played a role.
How so? In a few ways. For one, the Obama administration's desire for stronger relationships throughout Southeast Asia also appears to have made it reluctant to take strong action when elected governments are overthrown. The White House also has reduced the emphasis on democracy promotion in Southeast Asia for diplomats in the region and has, in some cases, shifted aid monies away from democracy promotion efforts. The administration also has sought, in its fiscal year 2015 budget, to get Congress to eliminate the Brownback amendment, a provision passed in 2005 that bars any American administration from requesting foreign governments' approval to allocate democracy promotion aid to embassies, NGOs, and consultants working in those countries. The amendment was designed to ensure that authoritarian governments could not simply block American aid projects. The White House is pushing hard to remove the amendment, partly so that it can ensure that authoritarian governments in Southeast Asia at the heart of the pivot will approve of aid projects.
In addition, the lack of interest in democracy promotion, and the decision to essentially ignore fraudulent or overturned elections in Cambodia, Malaysia, and Thailand, has imperiled the United States' long-term relationship with young men and women throughout Southeast Asia, which as a region is undergoing a youth bulge. These young men and women will be the future of Southeast Asia, and alienating them will have serious long-term repercussions for the United States' ability to sustain relationships with Southeast Asian partners. In Malaysia, for instance, young Malaysians overwhelmingly support the opposition PKR coalition, which won the popular vote in national parliamentary elections in 2013 but did not take control of parliament from Najib's ruling coalition due to fraud and massive gerrymandering. In the 2013 election, Malaysians under 40 voted heavily in favor of the PKR coalition. In Cambodia, where an entire generation of older Cambodians was wiped out by the Khmer Rouge, the population is extremely young overall, and young, urban Cambodians overwhelmingly supported the opposition coalition in the 2013 elections.
In Malaysia, Cambodia, Thailand, and other countries in the region, many reform-minded young people, who often voted for the political opposition, have been mystified when the United States, which a decade ago had been so vocal about democracy in Southeast Asia and which still has significant influence over governments in the region, has taken little action after elections were undermined and victors defrauded.
In addition, the increase in military to military relations with Southeast Asian nations that have come with the pivot has not upheld promises that these ties would help shift the culture of the region's militaries and make them more accountable and less abusive.
I will have more on U.S. policy and democratic regression in the coming weeks.
Joshua Kurlantzick is a fellow for Southeast Asia at the Council on Foreign Relations. This post appears courtesy of CFR.org.