United States Lifts Vietnam Arms Embargo (With a Catch)
40 years after the Vietnam War, the U.S. will sell defense equipment to Vietnam for maritime security.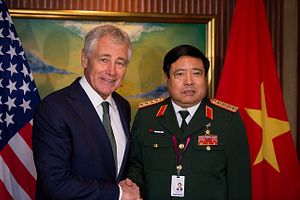 As expected, the United States announced that it would lift its long-standing policy of not selling lethal arms to Vietnam. The decision comes with a caveat in that it will only apply to equipment that will help Vietnam improve its maritime security. The move represents a move toward completely normalizing the U.S.-Vietnam relations. "The State Department has taken steps to allow for the future transfer of maritime security-related defense articles to Vietnam," noted U.S. Department of State spokeswoman Jen Psaki. In addition to only covering items that will help Vietnam improve its maritime security, the deal will also require that requests for equipment from Vietnam be evaluated on a case-by-case basis.
Speaking in New York last week, Vietnamese Deputy Prime Minister Pham Binh Minh said that as long as the embargo was in place, the relationship between the two countries would remain "abnormal." Minh later spoke in Washington D.C., where he noted that "no two countries have worked harder" to fix their relationship than Vietnam and the United States. The decision to lift the embargo comes nearly 40 years after the end of the Vietnam War.
Support for lifting the embargo in the United States is broad and bipartisan. U.S. Senator John McCain (R-Ariz) told Reuters that "Easing the lethal arms ban on Vietnam for the purpose of maritime security will strengthen our defense cooperation in ways that benefit both countries." Human rights groups remain concerned that lifting the arms embargo without applying explicit conditions on human rights is ill-advised for the United States. John Sifton, Asia advocate at Human Rights Watch, told Reuters that Vietnam hasn't "earned" the right for the embargo to lifted. McCain additionally notes that for the embargo on non-maritime security-related equipment to be lifted, Vietnam will have to take "additional steps … to respect and defend the human rights of the Vietnamese people."
For Vietnam, the U.S. decision will be largely welcomed as a positive step in helping it modernize its naval capabilities. Vietnam has embarked on a multi-billion dollar modernization effort aimed at bolstering its ability to monitor and protect its sovereign waters from foreign incursion. In particular, Hanoi remains concerned about growing Chinese assertiveness in the South China Sea. Earlier this year, China moved an oil rig along with around 80 vessels into waters that Vietnam claims as part of its exclusive economic zone (EEZ) under the United Nations Convention on the Law of the Sea (UNCLOS).
Vietnam primarily relies on Russia for most of its defense needs. Its naval hardware mostly consists of legacy Soviet-era systems. Most recently, Vietnam is developing a submarine warfare capability by investing in improved Russian Kilo–class subs that will help it implement an anti-access/area denial strategy against possible Chinese encroachments.
One of the first items that will likely be on Vietnam's wish-list is Lockheed's P3 Orion maritime surveillance aircraft. Vietnam's aerial maritime surveillance capabilities remain rather modest with a small fleet of helicopters and short takeoff and landing (STOL) utility aircraft. In 2012, Vietnam Aerospace Association announced that it would cooperate with Sweden's Unmanned Group to jointly develop unmanned aerial vehicles (UAVs) that will likely be used for maritime surveillance.
For the United States, lifting the embargo in the interest of helping Vietnam maintain its maritime security is in line its strategic "Pivot to Asia." In addition to recommitting U.S. assets to the Asia-Pacific, the initiative intends to empower states interested in preserving the regional status quo. Vietnam's national interest, to this end, is convergent with the United States' interest in the region.