Why a Xi-Abe Meeting Is Not Important
Given widespread popular dislike between China and Japan, a meeting between top leaders won't accomplish much.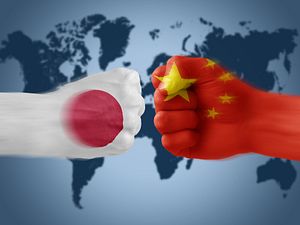 Current Sino-Japanese relations seem to be focused on one question: Will Chinese President Xi Jinping meet with Japanese Prime Minister Shinzo Abe at next month's APEC summit in Beijing? The leaders of these two Asian powers have not conducted a formal meeting since 2012 when the relationship experienced a major crisis over Japan's national purchase of the of the Senkaku/Diaoyu Islands. A recent informal meeting between the foreign ministers of the two countries in New York City produced high hopes for a China-Japan summit in November. While a Xi-Abe meeting is no doubt an important indicator of China-Japan bilateral relations, too much focus on the leadership and top-down arrangements is actually a significant problem for the China-Japan relationship.
A recently released bi-national public opinion poll provides answers as to the real problems between the Asian neighbors. The 10th annual opinion poll, jointly conducted by the China Daily and Genron NPO each year since 2005, reveals some of the most striking facts about Sino-Japanese sentiments. The poll indicates that over 93 percent of Japanese respondents and 86.8 percent of Chinese respondents hold an unfavorable or negative impression toward the other nation. It is difficult to find such a staggeringly high level of negative attitudes between neighbors, outside perhaps Israel/Palestine and U.S./USSR during the height of the Cold War. Even more difficult is finding this extreme of mutual dislike between major powers. One of the most alarming facts of this survey is that more than half of the Chinese respondents (53.4 percent) and almost a third (29 percent) of Japanese respondents believe that military conflict between China and Japan is imminent within a few years or in the near future. Compared with the same joint poll of last year, which I also commented on, the fear of a sudden military conflict is increasing in both countries.
With the state of the current relationship and the rise of nationalism in both countries, there is little the two leaders can do, even if Xi and Abe meet at APEC. Amid public opinion like this it is no real surprise that the two governments are not making any compromise to improve or ease the tension, even though the tension is against their own national interest. Thus the focus on national leaders meeting overshadows the real problem — that of the Chinese and Japanese people, not their respective governments. With both sides having to address so many domestic issues, such as the ongoing protests in Hong Kong, there is lack of incentive for the two leaders to go against public opinion and make dramatic strides to improve the bilateral relationship.
We have seen many examples of this in recent years. When Prime Minister Abe visited the Yasukuni Shrine, he was widely criticized by the Chinese, Koreans, and almost all of international society. However, this public opinion survey indicates that over 70 percent of Japanese approve of such visits. Such information helps us to understand why Abe would like to visit Yasukuni even though he knew clearly what kind of international reaction he would receive. Though public opinion does not always directly influence foreign policy, when over 90 percent of the population holds a negative opinion of the other, public opinion and domestic sentiment will have a direct and decisive impact on foreign policy. It is near impossible for leaders to ignore such extensive popular beliefs.
Ostensibly, China and Japan realized normalization of relationship in 1972; however,this was a top-down arrangement between two governments. Common interest compelled the two ruling parties to reach this accord of normalization. Yet the fundamental problem for China-Japan relations is the unfinished post-war reconciliation. The top-down arrangement as such has served as not much more than a diplomatic veil, and is unstable without genuine reconciliation between the two societies. Without real reflection and understanding about their past history, the ghost of war still haunts these two neighbors nearly 70 years after the end of WWII.
When compared to a possible Xi-Abe summit, there are more important things the two countries should do. For example, this public opinion survey also indicates that both Chinese and Japanese public perceptions of the other country are mainly dependent on their domestic media. 96.5 percent of Japanese receive their information regarding China from Japanese news media. Within the 96.5 percent, 76.1 percent are receiving information from TV. In China, 91.4 percent of respondents cited "Chinese news media" as a source of information, 61.4 percent chose "Chinese TV dramas and movies," and 37.4 percent chose "Chinese publications (including school textbooks)." Given the prominence the two country's news outlets have played in shaping public opinion and the fact that much of these media reports about each other are biased, one-sided, and even demonizing, it would be significant if the media of the two states could have a direct dialogue with one another and conduct more joint news coverage.
We saw such an example in the BBC documentary Missing Histories. Japanese journalist Mariko Oi and Chinese journalist Haining Liu together visit schools in their respective home countries to observe the approach both countries take in teaching their shared history. The two states should increase the positive reporting toward each other given that history has played such an impactful role in their relations. Furthermore, both governments should resume their joint history research started in 2006, if they agree that history education is the source of conflict between China and Japan. It would also make sense for both states to translate and publish each others history textbooks over the wartime period, and use the other state's history texts as supplementary reading for students. This would at least help the younger generations of each side see that there exist differences and disagreements over historic issues.
Often in conflicts among between states, people only pay attention to the top leadership's actions. The leaders are often accused of not doing enough to avoid the tensions that exist. However, conflict involves the continuities of social discourses. The phenomenon of violent conflict cannot simply be understood through analyses of leadership; it is necessary to uncover the continuities in social discourses which enable conflict and give it legitimacy.
It would be great if Xi and Abe could meet in November. However the past history of the Sino-Japanese relationship has already demonstrated that without changing public opinion and without meaningful educational reform in both societies, other political mechanisms, such as diplomatic meetings between political leaders and other official exchanges between the countries, are likely to be "top-down" and will have only a limited impact on improving this relationship.
Zheng Wang is the Director of the Center for Peace and Conflict Studies at Seton Hall University in New Jersey and a Global Fellow at the Woodrow Wilson International Center for Scholars.