Will China Join the Trans-Pacific Partnership?
China's vice foreign minister says Beijing is interested in joining the TPP as its own economic reforms take shape.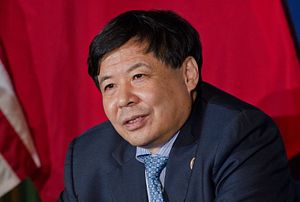 China is open to joining the Trans-Pacific Partnership, a high-ranking Chinese official indicated on Wednesday at a think-tank in Washington, DC. China, once deeply skeptical of the TPP, has become more interested in the trade bloc as its own economic reforms advance.
Zhu Guangyao, China's vice minister of finance, touched on the TPP in a talk at the D.C.-based Peterson Institute for International Economics on Wednesday (you can view a full video of Zhu's remarks here). When asked if China would be interested in joining the TPP, Zhu said that China is "very open" to the global economy and plans to continue its decades-long process of "reform and opening up" under Xi Jinping. Zhu said that there had been a debate over the TPP within China, but there is now a clear consensus that China should integrate with the global trade system, including trade agreements "with high standards" such as the TPP.
Those "high standards" have been a point of contention. The U.S. administration envisions the TPP as a sort of trend-setter for the next generation of trade agreements. Accordingly, the Obama administration has placed a heavy emphasis on the TPP being a "high-standard agreement" with an ambitious (and U.S.-friendly) definition of free trade and open markets. As it currently stands, China would not meet those standards.
Initially, the Chinese reaction to its evident exclusion from the TPP was to label the trade negotiations part of the United States' strategy to "contain" China. However, this stance has shifted since Xi Jinping took office and placed economic reform at the top of China's agenda. Beijing now emphasizes the necessity of economic rebalancing, which involves both greater economic openness and a more reliance on market forces – both reforms that bring TPP membership closer to China's grasp. In May 2013, China's Commerce Ministry indicated that it was looking more seriously at the possibility of China joining the TPP. Advocates argue that by doing so China could provide a necessary boost to its domestic economic reforms, similar to the way China's goal of joining the WTO helped galvanize economic reforms under Jiang Zemin.
Wednesday's comments from China's vice finance minister indicate that this line of thinking is now the mainstream.  Zhu tied the possibility of Chinese inclusion in the TPP very closely to Xi Jinping's stated goals for economic reform, arguing that the two are mutually reinforcing. Zhu said that China wants to see "real development" in the TPP negotiations, as Beijing welcomes all proposals for trade liberalization both regionally and globally. Perhaps most tellingly, Zhu said that China both "understands" and "welcomes" the high standards of the TPP.
Zhu also repeated the oft-made argument that, given China's economic importance, any trade bloc that doesn't include Beijing is "incomplete." Currently, the TPP is effectively closed as the 12 countries that have already signed on seek to complete negotiations.
In addition to indicating China's interest in the TPP, Zhu also emphasized Beijing's commitment to a Bilateral Investment Treaty (BIT) with the U.S. As with the TPP, the logic here is that China's economic reforms and trade negotiations can help reinforce each other, strengthening the likelihood of success on both counts. Zhu praised the recent "big progress" in the BIT negotiations and said that both China and the U.S. are preparing their "negative lists" (the list of sectors that will be off-limit to foreign investment). "Real negotiation" on these negative lists will begin next year, Zhu indicated.
As with the TPP, the key question for the U.S.-China BIT remains how high the standards will be. "For China, to be honest, we face [a] real challenge domestically" to shorten the negative list, Zhu said. However, he stressed Beijing knows "this is need[ed] to promote domestic restructuring." While Zhu was happy with progress so far, he added laughingly that China and the U.S. are both "tough negotiators" – in other words, don't expect process to be quick or easy.