X-Band and THAAD as Good as Anti-China Trilateral Defense Agreement?
The U.S. transfer of high-end hardware seeks to put China in an ever-shrinking security box.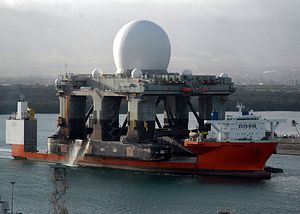 Over the past week China has criticized the U.S. for deploying new missile defense radar and for considering the deployment of advanced missile defense systems in Northeast Asia. While both of these deployments can ostensibly be considered necessary in light of continued ballistic missile testing and the threat of yet another nuclear test from North Korea, their applicability toward Beijing is obvious. While China can do little to directly prevent their deployment, the moves highlight China's growing military presence in the East China Sea, and the increasing friction encountered by U.S. and Japanese forces in the region.
China reacted last week for the first time to Washington's proposed deployment of its Theater High Altitude Area Defense (THAAD) missiles to South Korea. The chief envoy to the six-party talks for China, Xu Bu, said the U.S. attempts to "strengthen its military presence in Northeast Asia… would spark strong dissatisfaction from North Korea," and that "nothing can be resolved unless we do negotiations," according to Yonhap News.
There is still some question as to whether Seoul will agree to the deployment. On Thursday, the two allies decided to indefinitely postpone the transfer of wartime operations to South Korea. Some experts believe that the U.S. will use the delay as leverage to force Seoul to forgo the development of its own indigenous Korean Air and Missile Defense (KAMD) in favor of the THAAD system. However, China has told South Korea that joining the U.S. missile defense system would cross a "red line" in their bilateral relationship.
Then on Thursday, China reacted to the U.S. delivery of its X-Band radar system to one of its facilities in the Japanese city of Kyoto on Tuesday. The spokeswoman for the Chinese foreign ministry, Hua Chunying, said "the deployment of anti-missile systems in the Asia-Pacific and seeking unilateral security is not beneficial" to regional security. In an apparent reference to the Washington's often quoted excuse of protecting against North Korean antagonism, Hu said the deployment should not be an "excuse to harm the security interests of other countries."
The inclusion of these two defense systems is part of a larger U.S. regional strategy to bring Japan and South Korea into a trilateral defense framework. By providing advanced hardware, the U.S. is seeking to reduce the need for its own presence, and transfer greater responsibility for countering both North Korea and China to its regional allies. With a radar range of 2,000 km, the X-Band will allow for much deeper, sustained and granular radar penetration into China for the U.S. and Japan from a terrestrial based platform. The THAAD system degrades the effectiveness and therefore the regional clout provided by China's own extensive missile program.
While the U.S. has yet to bring its two regional allies into a formal trilateral defense agreement, the continued transfer of technology and hardware necessary to balance against China's growing military profile means that most of the integral pieces of such an agreement are already in place, and that Beijing has every reason to be concerned that the U.S. is indeed encircling it.