A Chance for Progress on North Korean Human Rights
Pyongyang's apparent willingness to discuss human rights issues could be an opening for the West.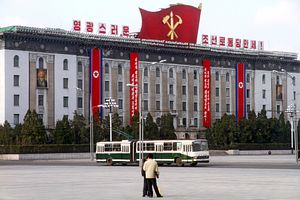 In recent months, as the United Nations has begun taking steps toward a resolution that would refer North Korea to the International Criminal Court for crimes against humanity, Pyongyang has made an unusual full-on diplomatic effort to counter criticism and avoid such a vote. Normally camera-shy North Korean diplomats have been speaking publicly in various settings to denounce the "politicization" of human rights issues, and high-ranking envoys – including the top human rights official in the EU and the UN's Special Rapporteur for North Korean Human Rights – have been invited to Pyongyang to engage in dialogue.
When the UN Human Right Council's Commission of Inquiry began investigating abuses in North Korea last year, Pyongyang refused to have any dealings with it. But the subsequent sustained international focus on North Korean human rights generated by the Commission's exhaustive report has apparently prompted a change in tactics. North Korea now appears more willing to discuss human rights issues, although the country continues to sharply defend its record: Its officials have challenged the testimony and character of defectors, and have not acknowledged the existence of the country's most notorious political prisons.
Nonetheless, there have been some small but potentially important shifts in North Korea's rhetoric. A North Korean foreign ministry official, for example, appeared to have acknowledged the existence of the country's re-education camps (wherein perpetrators of lesser ideological crimes serve relatively short-term sentences), making reference to "reform through labor" centers "where people are improved through their mentality and look on their wrongdoings."
This dynamic presents a new opportunity for certain interlocutors, such as the EU, the UN, or the International Committee of the Red Cross, to propose realistic cooperative projects to improve human rights conditions within North Korea. Given that many of the most serious human rights concerns relate to North Korea's penal system, and that the North has partially acknowledged the existence of this system, addressing this issue would be a key concern of a human rights dialogue and related engagement.
A good place to start would be tuberculosis treatment and control. The WHO estimates that North Korea has 345 TB infections per 100,000 population – one of the highest rates in the world outside of Africa. Many new cases are multi-drug resistant, making treatment particularly difficult and costly. North Korea's labor camps are likely major breeding grounds for TB, as has often been the case in the prison systems of other countries, and stopping the spread of the disease within these camps may be integral to combatting it within North Korea as a whole.
Several international organizations have been working in North Korea for years to address the TB crisis there, and have substantial knowledge of conditions on the ground as well as established relationships with North Korean health officials. Finding a way to treat TB inside North Korea's prison camps would enhance the effectiveness of the good work that they have been quietly doing across the country. Providing healthcare to individuals suffering inside the prison system would also, of course, be a worthwhile cause on its own merits.
Another possibility for engagement on North Korean human rights would be to discuss issues related to food and nutrition in its prisons. As critics of international food aid programs in North Korea have pointed out, aid agencies have not been able to access the prison camps where assistance may be needed most. For the UN agencies operating in North Korea, undertaking renewed efforts to access these camps would also be consistent with the UN's recent commitment to a "rights up front" strategy, and expanding their access could greatly improve living conditions in the camps.
Negotiations to provide medical or nutritional assistance to people in North Korea's prison system could begin with the facilities that Pyongyang has publicly acknowledged. Although the camps where inmates face life imprisonment for political offenses would likely be off-limits initially, it is possible that success in the first stages of this work would gradually lead to increased access.
Implementing cooperative programs in North Korean prisons would certainly be challenging, but it could save lives and be in the interests of both North Korean authorities and the international community. While aid workers would be primarily concerned with treating TB and malnutrition, they would also be in a position to make firsthand observations about overall health conditions in North Korea's prisons, and to make recommendations on how those conditions could be improved. Furthermore, taking up Pyongyang's offer to cooperate on human rights issues, even at such a pragmatic level, may open the door for broader changes in North Korea's human rights record in the future.
Daniel Wertz is Program Officer at the National Committee on North Korea. The views expressed here are his own.