Australia's 'Billion Dollar' China Deal
The government touts a billion dollar cattle export deal, but others wonder where it is getting its figures from.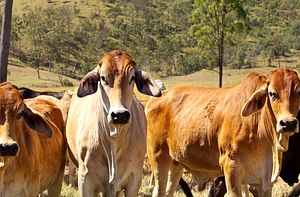 Local news reported Friday that Australia was on the brink of inking with China a cattle export deal worth close to A$1 billion ($858 million), a figure that would apparently translate into some one million head of cattle. Others have suggested those figures are fanciful.
Agriculture Minister Barnaby Joyce confirmed the scale of the deal to media in rural Tamworth. Education Minister Christopher Pyne told commercial broadcaster Channel Nine, "This is the kind of thing that happens when you have a government that's focused on economic outcomes… So we have a Free Trade Agreement with Japan, Free Trade Agreement with South Korea, working on one with China." In fact, although the two free trade agreements were signed during the current government's time in power, the China FTA has been in the pipelines for nine years, since the Coalition was last in power, and remains fraught. At any rate, the cattle deal is separate from the ongoing FTA negotiations.
Not long after the news hit, however, chairman of the Northern Territory Cattlemen's Association David Warriner told the national broadcaster the ABC, "The million head figure is inaccurate. That number's been plucked out of somewhere and who knows where it's from."
Australia's total cattle exports only hit one million head for the first time last year. Any new deal on that scale might jeopardize longer standing deals with Indonesia, Warriner explained, as the quantity would eat into stock destined for elsewhere. There is also the issue of setting up the supply chain, which takes time, as well as animal welfare issues. The latter remains of significant concern and there are ongoing petitions to ban live exports altogether. Independent Tasmanian MP Andrew Wilkie has called the live export trade an "evil death cult."
Australia is very keen to conclude an FTA with China, especially now with reports of the mining boom slowing. The idea of the nation being a "food bowl" for Asia and a rapidly growing China is not a new one; however, critics suggest the plan has foundered thanks to Australian complacency. "Brand Australia" may yet get a new lease of life but for now it's presence is modest.
The dairy sector is another area where Australia sees terrific potential in the Chinese market, but it is currently far behind its peer in much smaller New Zealand. New Zealand's dairy exports topped A$5.05 billion to June this year, a tenfold increase in the past six years according to Professor Keith Woodford at the University of New Zealand. As he pointed out, New Zealand has had an FTA with China since that time and Chinese demand for dairy products coupled with New Zealand's dominance in the global whole milk powder market has driven the impressive performance.
Meanwhile, in other food export news this week, Vietnam may refuse Australian fruit imports, hitting grapes, apples and cherries. Apparently the reason is fruit fly worries, although given that the state of Tasmania, from whence much of the produce comes, has no cases of fruit fly and works intensely hard to keep it that way (passengers disembarking the ferry from Melbourne are fined for carrying produce across the Bass Strait), this seems disingenuous. Others have suggested the reason is more likely Australia's tardiness in okaying Vietnamese dragon fruit imports.
Helen Clark was based in Hanoi for six years as a reporter and magazine editor. She has written for two dozen publications including The Diplomat (as Bridget O'Flaherty), Time, The Economist, the Asia Times Online and the Australian Associated Press.