New Zealand and Trade Diversification
As the dairy downturn continues, should New Zealand start looking to other markets?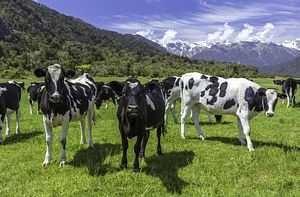 The 2008 Free Trade Agreement between China and New Zealand was, and is, considered one of the great trade agreement coups of the region. Australia only signed its own late last year and it still has to go through Parliament. Those who did best from the New Zealand FTA were the dairy farmers, capitalizing on a growing market's desire for quality agricultural produce and suspicions about China's own local milk and milk powder.
Now, however, there is a worldwide drop in milk prices, partly because of an oversupply in the market and partly because China's own dairy industry is growing. According to Bloomberg in July, China produced an extra three million tons of milk in 2014, slowing demand for imported product. Production in New Zealand could fall 8 percent in the 2015-2016 season and farmers are culling their herds.
The same story reports that the downturn in New Zealand has caused problems for Trans-Pacific Partnership (TPP) talks, as New Zealand demands better access to Japanese and North American markets, and faces a protectionist pushback from Canada.
What is interesting here is that according to this paper, written to commemorate 40 years of New Zealand involvement in ASEAN, one of the reasons New Zealand began pursuing trade agreements in Asia, beginning with Singapore, and pursuing a trans-Tasman economic integration policy, working with Australia to build ties in Asia, was "in response to the diversionary effects of European integration."
Of course, European cooperation can't be conflated with a downturn in Chinese milk demand. But changes in trade and demand mean other markets must be considered. Apart from New Zealand's regional approach, what are some other opportunities in Asia?
As every nation excited by the notion of China's 1.3 billion possible customers eventually realizes: There is more to the Asian Century than trade with just China. New Zealand's top five export markets are China, Australia, the EU, the U.S. and Japan. The small country is dependent on international trade and has pursued trade agreements at a fair clip, including an Australian-New Zealand agreement with ASEAN six years ago.
The Asia New Zealand Foundation has been covering this lately, with Dr. Reuben Abraham speaking on India and Dr. Jiann-Chyuan Wang of the Chung-Hua Institution for Economic Research in Taiwan. Both argue for greater interest from New Zealand in doing business with their nations, though Abraham rather interestingly notes that an FTA is not especially important: Tourism and education might be better avenues with useful knock-on effects.
New Zealand has a 2013 economic cooperation agreement with Taiwan that removes the New Zealand  tariffs on exports, which has seen modest increase in two-way trade (12 and 8 percent, respectively); however, Dr. Wang suggests more could be done.
Taiwan has the same population as New Zealand's second-largest trading partner Australia. "New Zealand and Taiwan have missed opportunities to do business together by largely ignoring each other as trading partners in favor of larger neighbors," said Dr. Wang. Taiwan, for its part, has generally ignored New Zealand, looking to Australia instead. He says that compared to China, Taiwan can be an easier place to do business in, but also provides a stepping stone into the larger market.
As with China, New Zealand could find that agriculture, both cooperation and export, could be a useful avenue for entry into Taiwan. New Zealand enjoys a stellar reputation and demand for quality food and organic produce is increasing.
And India? An FTA may not be worth pursuing from India's perspective thanks to the differences in population: 1.2 billion versus 5 million. Though Dr. Abraham characterizes New Zealand's approach as a "deer in the headlights" one, India is New Zealand's 15th largest trading partner and an FTA has been through rounds of negotiations since 2007. However, he thinks that tourism, one of New Zealand's biggest earners, might be an especially useful avenue, given that only about 40,000 Indians visited the country last year.
What happens with the TPP will be especially important. Still, New Zealand was quick off the mark with China and new markets for its produce, or tourism, could still be an asset.