Could Abe Call a Snap Election?
An attempt to justify a change in course over the tax hike could backfire for the prime minister.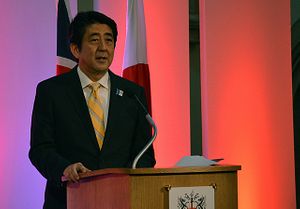 Shortly before Prime Minister Shinzo Abe left on an extended foreign tour on Sunday, he made a slightly surprising revelation, suggesting that he could dissolve the lower house of the Diet and call a snap election, in the event that he decides to postpone the October 2015 consumption tax increase from 8 to 10 percent. Speculation has been rampant in the Japanese press as to whether Abe will actually follow through with the increase, after the last tax hike in April saw Japanese second quarter GDP post its  biggest slump since 1997 (the last time the government increased the consumption tax). The prime minister has remained coy on whether or not he will follow through with the decision, which will be made before the end of the year, merely saying that he cannot implement a policy that would derail Japan's nascent economic recovery.
Abe will return from three multilateral engagements in China, Myanmar and Australia by November 18, after which Japan's third quarter growth figures will be released. After considering the relevant economic data, the Yomiuri Shimbun reported that Abe will decide whether or not to follow through with the next tax increase, and will also make his decision on whether to call a snap election. Abe has apparently advised the LDP's coalition partner Komeito as to his plans, although with the media he has hedged his bets by saying his plans were "something a prime minister always has to say."
Should the House of Representatives be dissolved, the election would be held on either December 14 or 21, with a close aide to Abe stating "the focus of the general election would be a referendum on Abenomics."
After reports came out that an early election might be taking place, an NHK poll taken on Monday showed that public opinion may not support Abe's logic. The poll found that the current administration's approval rating had fallen from 52 to 44 percent over the previous month, the lowest since the prime minister returned to office, as the scandals within the Cabinet have begun to be fully factored in. More problematic for Abe is the fact that his personal disapproval rating also increased by four points to 38 percent. Additionally, 76 percent disapproved of the idea of a snap poll and 74 percent were against the tax increase, hinting that neither of Abe's proffered options may be politically viable.
However, officials both inside and outside the coalition government are making public statements in favor of a vote. A former Cabinet official for the LDP, Toshihiro Nikai, told Reuters "It is for certain that the winds have begun to blow for the dissolution of the lower house," while Komeito's leader Natsuo Yamaguchi said his party "need[s] to consider a posture to cope with that." An unnamed opposition source that spoke with Reuters said that "if Abe doesn't call an election now, he will lose credibility."
News of a snap election while Abe is in the middle of a big foreign policy tour does seem smart and calculated, as his image and abilities abroad often translate into a better opinion back home. While that hasn't happened yet, the prime minister may hope that his ability to finally meet with President Xi Jinping and begin to normalize relations with China may be able to win him points domestically. However, the NHK poll found that the two issues most voters cared about were an additional economic stimulus and welfare system reform, at 25 and 24 percent respectively.
The LDP can likely handle the results of a quick election, as the Japanese opposition remains limited and disorganized even two years after the LDP's return to power. The question is whether Abe's approval ratings will keep him at the helm. The largest party in opposition, the DPJ, has said it is trying to rally other parties around a motion of no-confidence against Abe's Cabinet. Again, this is likely to end in frustration for the DPJ and any of its partners, as the LDP-led coalition holds a majority in both houses of the Diet. As Abe has indicated, any early election would be a referendum on his premiership and economic policies. As president of the LDP, Abe still has a firm grasp on his party's leadership. However, if opinion polls for his administration continue to decline, the party may eventually be tempted to look for a new leader to maintain its hold on power.