Cracks Emerge in Hong Kong Protests
Plus, Chinese banks and Iran's Quds forces, Taiwan's upcoming elections, and cross-strait relations. Friday China links.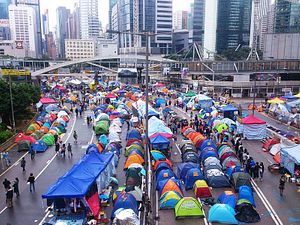 A wrap of the top China news for the end of the week:
We're coming up on the two-month anniversary of the Hong Kong protests, and fractures between protests leaders and splinter groups are starting to deepen. The protests have always been a loosely aligned collection of various different groups ("Occupy Central," the name generally used for the protests, is actually one of those groups). As protests have dragged on with little to show for the effort, there's a growing argument over how to proceed. South China Morning Post reports on a confrontation between protest leaders and those who are dissatisfied with the current direction of the movement.
These schisms were on display Tuesday night, when a group of protestors tried to break into Hong Kong's legislative building, breaking windows before being pushed back by police. One participant in the scrum told the New York Times, "If we keep sitting here, doing nothing, nothing's going to change." Leadership of the two main protest groups, Occupy Central and the Hong Kong Federation of Students, both denounced the incident and pleaded for a return to peaceful protests. Meanwhile, some sources (including Hong Kong's Channel 4 News) have claimed the window-smashing was instigated by Beijing-allied triad groups that have infiltrated the protests.
In other news, Reuters has an exclusive report on how Iran uses a Chinese bank to transfer money to Iran's Quds Force, which provides military aid and training for pro-Iranian groups like Hezbollah and Hamas. The Quds faces sanctions from the U.S. and EU; using a Chinese bank to transfer funds via shell Chinese companies allows Iran to bypass those restrictions. According to Reuters, the claim that the bank of Kunlun Co Ltd helps Quds-affiliated companies move funds originated in a "Western intelligence report." Hundreds of millions of dollars have flowed from Iran to Kunlun in the past year, the report said.
Asked about the report, Chinese Foreign Ministry spokesperson Hong Lei said he was "not aware of the specifics." Hong added, however, that China "has been strictly observing its international obligations."  "We maintain normal economic and trade engagements with Iran which violate no international laws or resolutions of the UN Security Council, and harms no interests of other countries," Hong said. China has long denounced the use of sanctions as a way of dealing with international problems and has been increasingly active in fostering close ties with Iran as the P5+1 talks continue.
Richard C. Bush III of the Brookings Institution analyzes an under-discussed aspect of last week's APEC summit – a meeting between Zhang Zhijun, head of the Taiwan Affairs Office, and Wang Yu-chi, the chairman of Taiwan's Mainland Affairs Office. Bush notes that cross-strait relations "are stuck," in part because the two sides have already picked the low-hanging fruit for deepening economic cooperation. Both Beijing and Taipei are now worried about the future course of the cross-strait relationship. In this context, Bush notes a positive signal: a return to the 1992 consensus (rather than explicit references to "one country, two systems") as the basis from cross-strait talks.
Speaking of Taiwan, on November 29 Taiwanese voters will head to the polls for local elections. But don't be fooled by the word "local" – these elections are huge both in terms of scope and potential impact. Voting next Saturday will include 9 different elections totaling a whopping 11,000 seats, from the mayor of Taipei to village wardens. As the first election since this spring's Sunflower Movement protests, it's the first real chance to see if the political landscape in Taiwan has actually changed. The China Digital Times collected Taiwan election analysis from around the web, making it a handy one-stop-shop for getting to know the issues and potential ramifications of Taiwan's elections.