The Renaissance in Russia-North Korea Relations
Moscow and Pyongyang talk economics and nuclear issues during Choe Ryong-hae's visit to Russia.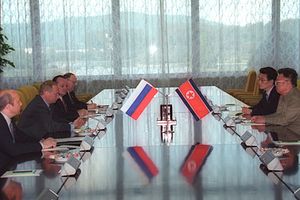 Choe Ryong-hae, reportedly North Korea's number two, concluded meetings with Russian President Vladimir Putin and Foreign Minister Sergey Lavrov this week. Choe, who is acting as a special envoy of North Korean leader Kim Jong-un, will visit Khabarovsk and Vladivostok in addition to Moscow on his seven-day visit to Russia.
According to NK News, North Korean media quoted Putin as describing a "long-standing tradition of friendship and cooperation" between Moscow and Pyongyang during his meeting with Choe. Choe came bearing a letter to Putin from Kim Jong-un. According to Xinhua, the letter indicated Kim's "readiness to develop our bilateral ties and cooperate in resolving the problems which persist on the Korean Peninsula."
Choe emphasized "expanding and developing the bilateral friendly and cooperative relations onto a higher stage" in 2015. The two sides have agreed to continue contact at all levels, including "the summit level" within an unspecified time frame. A Putin-Kim meeting would be especially interesting as Kim has not yet met with Chinese President Xi Jinping, though China is traditionally North Korea's strongest backer.
For both Russia and North Korea, renewed economic ties are especially appealing. North Korea is looking to diversify its partners to reduce a heavy reliance on China, while Russia envisions North Korea as providing a convenient overland route to South Korea. According to Russian Foreign Minister Sergey Lavrov, Pyongyang will consider a Russian proposal to build a gas pipeline and power line running through North Korea to South Korea. Russia has already started a pilot project using a North Korean cargo terminal to ship Russian coal to South Korea. Moscow has further suggested it might connect its Trans-Siberian railway to the Trans-Korean railway, a planned railroad linking Russia and the Korean peninsula. Lavrov, who also met with Choe, said economic relations between North Korea and Russia were "reaching a whole new level."
On the strategic side, Lavrov also announced that North Korea "is ready for the resumption of the six-party talks without any preconditions." The now-defunct Six Party Talks brought China, Japan, North Korea, Russia, South Korea, and the U.S. to negotiate an end to North Korea's nuclear program. China in particular has championed restarting the discussion platform to resolve the nuclear issue (in fact, Beijing was the original organizer of the Six Party Talks). A Russian Foreign Ministry source told Interfax that progress on denuclearizing the Korean peninsula "is a mandatory condition of lifting the sanctions against the country which naturally impose big limits on our bilateral relations."
Unfortunately for Pyongyang, the U.S. is not likely to enter into renewed talks "without any preconditions" – the Obama administration has consistently called for Pyongyang to live up to its previous commitments before talks can resume. In October, U.S. Secretary of State John Kerry said a return to the Six Party Talks is possible "in the next weeks, months perhaps." Kerry added, however, that Washington will "need some indication from Kim Jong-un and the regime that they are, in fact, prepared to talk seriously about the central topic of the talks, which is the issue of denuclearization… We do not want to return to talks just for the sake of talks."
North Korea's outreach to Russia is part of a general "charm offensive" designed to help decrease Pyongyang's isolation, particularly as China grows more distant. In addition to Russia, Pyongyang has sought talks with Japan and, to some extent, South Korea itself. However, North Korean hopes for a warmer international reception took a blow this week when the United Nations passed a resolution calling for alleged North Korean human rights abuses to be referred to the International Criminal Court. Russia, along with China, voted against the resolution.