Brunei's War on Christmas?
The Islamic state has reportedly banned Christmas decorations in the capital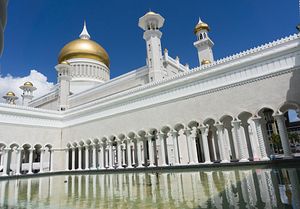 Officials in Brunei have banned the putting up of Christian decorations on buildings in the country's capital ahead of Christmas and New Year celebrations, BruDirect news portal reported Wednesday.
Syariah Enforcement officials contacted by the news portal confirmed that they had visited restaurants and cafes in the nation's capital Bandar Seri Begawan to instruct them to remove their decorations ahead of Christmas and New Year celebrations.
A staff member said that during the raid, enforcement personnel came to their restaurant and "verbally warned" the management against exhibiting decorations that were against Islamic beliefs.
"They showed us their enforcement badges before instructing us to remove the decorations. We did not receive any written notice or official statement," the staff member was reported as saying.
The staff member also said that the aforementioned enforcement personnel quoted some specific clauses under the Syariah Penal Code Order 2013 when requesting the restaurants to remove their decorations, even though no written statement or notice was presented to them.
On May 1, Brunei, a tiny, oil-rich country with a population of just around 420,000, two-thirds of whom are Malay-Muslim, began implementing a strict new penal code first published in October 2013, following an announcement by its ruling monarch Sultan Hassanal Bolkiah. The new code imposed severe restrictions on the religious freedom of non-Muslims in the country, including forms of religious expression such as teaching, proselytism, religious publishing, and even speaking freely to Muslims and atheists about one's own religious beliefs. Even minor infractions are punishable by heavy fines and in some cases prison sentences as well.
Islam had long been Brunei's official religion, with strict bans on the sale and consumption of alcohol and existing Islamic laws in place governing personal and family affairs. But the new regulations grabbed headlines worldwide because they extended laws to cover criminal offenses like adultery, sodomy and apostasy and proposed severe punishments, including stoning to death and amputation. At the time, Phil Robertston, then deputy Asia director at Human Rights Watch, called the decision "an authoritarian move towards brutal medieval punishments that have no place in the modern, 21st-century world."
Yet it was not clear at the time how the laws would actually be interpreted and implemented in practice, and how exactly it would affect the third of the country's population that is non-Muslim. Non-Muslim groups, including churches and magazines, had claimed to receive heavy monitoring and censorship by the government even before the new penal code. But reports had also surfaced then that the government lacked the wherewithal, including judges, to properly enforce the fresh regulations.
Thus far, it is not clear how widely and strictly the ban on Christmas decorations will be implemented in the capital or in the rest of the country. Nonetheless, the raid by enforcement personnel and the crackdown on Christian symbols is yet another sign of the eroding religious freedoms that non-Muslims enjoy in Brunei, which has been ruled by Bolkiah for nearly five decades.