China Not Invited to Kim Jong-il's Death Anniversary Commemoration
The North Korean government will not invite China to the commemoration of Kim Jong-il's third death anniversary.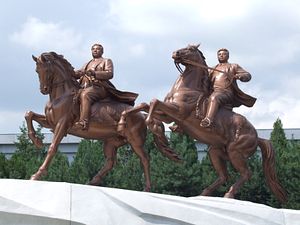 In an additional sign that relations between China and North Korea are not what they used to be, Pyongyang has not formally invited the Chinese government to attend the commemoration of Kim Jong-il's third death anniversary. According to a report in South Korea's Yonhap News based on a source with knowledge of the matter, no Chinese representative will be in attendance at this year's ceremony, signaling growing distance between the two countries. "According to my knowledge, North Korea has not formally invited China to attend the third anniversary of the death of Kim Jong-il in Pyongyang," notes Yonhap's diplomatic source. "So, the Chinese government has not considered sending a delegation to the Dec. 17 ceremony in Pyongyang," the source adds.
This report comes as the U.N. Security Council looks to add the issue of human rights abuses in North Korea to its agenda. Following a vote by the United Nations General Assembly's human rights committee (HRC) in late November calling for North Korea's leadership to be referred to the International Criminal Court for prosecution, North Korea has embarked on a "charm offensive." The HRC's vote is based on a February 2014 report by a U.N. Commission of Inquiry detailing a series of atrocities and human rights abuses in the country. North Korea's continued efforts to alienate Beijing seem particularly odd given that China is a permanent member of the U.N. Security Council and would likely be willing to veto any referral of the North Korean case to the International Criminal Court (Russia would do the same).
As I wrote yesterday in The Diplomat, a growing diplomatic split between Beijing and Pyongyang started becoming evident following North Korean leader Kim Jong-un's decision in December 2013 to purge and execute his uncle and regime number two Jang Song-thaek. Jang was widely known as North Korea's most experienced interlocutor with Beijing and his death signaled a broader move away from China. Earlier this year, reports emerged that North Korea was including anti-China slogans as part of its state propaganda. Additionally, as its relations with China became worse, Pyongyang expanded its diplomacy with a range of other countries including Japan, Russia, Indonesia, and even the United States.
Chinese state media have started condemning North Korea more overtly in recent months. In fact, just this week, a subsidiary publication of China's state-run People's Daily ran an editorial criticizing the state of human welfare in North Korea, noting that the country exclusively serves the interest of a small privileged elite at the expense of the masses. By the same token, some voices in the Chinese media caution outside observers not too read too closely into trends signaling a growing distance between China and North Korea. For example, one commentator in the China Daily noted yesterday that despite a few blows to China-North Korea relations, "China remains committed both to maintaining its traditional relationship with the DPRK and strengthening its cooperation with the Republic of Korea."
A litmus test for the state of China-North Korea relations will be the upcoming U.N. Security Council debate on the state of human rights in North Korea. If China is indeed looking to sideline North Korea, it may refrain from vetoing an ICC referral altogether (letting the Russians bear the burden instead). If Beijing does end up speaking strongly in Pyongyang's favor and exercises its veto, that would indicate that China-North Korea ties might be just fine. Note that Beijing has voted in favor of U.N. resolutions imposing economic and commercial sanctions Pyongyang in the past, but that was in the case of nuclear tests.