China's Foreign Policy in 2014: A Year of 'Big Strokes'
A look at China's foreign policy moves in 2014, and what's in store for 2015.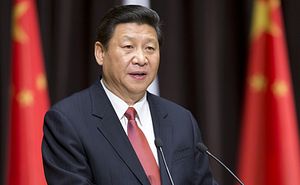 The Chinese have a phrase to describe plans or actions that are eye-catching or have far-reaching impact. It is "da shou bi," which may be translated into English as "big strokes." The past year was undoubtedly a year of "big strokes" for Chinese foreign policy.
In 2014, Chinese President Xi Jinping visited 18 countries across Asia, Europe, Latin America, and Oceania. He also hosted the Conference on Interaction and Confidence-Building Measures in Asia (CICA) in Shanghai and the APEC summit in Beijing. The former was attended by 11 heads of state, two heads of government, and ten leaders of international organizations, and the latter by 20 heads of state or government. Whether a home game or a road game, China's top leader apparently managed to make it a big stroke game.
Frequent travels abroad and high-profile summits at home certainly add to China's international influence, but the real big strokes lie in monetary terms. The Chinese government pledged $10 billion and $41 billion for the BRICS Development Bank and the BRICS Emergency Fund respectively. It also founded the 21-member Asian Infrastructure Investment Bank and made an initial contribution of $50 billion. Last but not least, China contributed $40 billion to establish the Silk Road Fund. As many governments around the world are struggling with severe fiscal shortfalls, the Chinese government's largesse is all the more eye-catching.
All these events and initiatives amply demonstrate the growing confidence of China as a major country, a term that perhaps seems less threatening than major power. Indeed, since 2012 one of the most important foreign policy messages promoted by China's new leadership has been that China is and should be treated as a major country. From "a new model of major-country relations" to "major country foreign policy with Chinese characteristics," the common theme is China's major country status. This emphasis on China's major country status represents a clear departure from the dominant discourse of peace and harmony during Hu Jintao's tenure: peaceful development, harmonious world, and diversity in harmony.
Unsurprisingly, many western (particularly American) observers tend to view China's foreign policy behavior as increasingly assertive. They seem to believe that China is actively seeking to weaken the America-dominated regional and international order, and to ultimately replace the American order with a China-dominated order. They often point to the Shanghai Cooperation Organization, the Forum on China-Africa Cooperation, CICA, the Free Trade Area of the Asia-Pacific (FTAAP), and the various mega banks and foundations founded or dominated by China — to name just a few of the big strokes — as evidence of a grand Chinese design for a Pax Sinica. "The vast Pacific Ocean has enough space for the two large countries of China and the United States," President Xi once said, but both countries want to increase their share of influence in the Asia-Pacific region (and beyond).
No matter how many big strokes Chinese leaders have painted over the past year, China still faces many challenges in becoming the dominant power in East Asia. First and foremost, ongoing maritime disputes in the East China Sea and the South China Sea have significantly strained China's relations with several of its neighbors. A major power surrounded by unfriendly neighbors can hardly be called a major power.
Second, from the perspectives of locals, the Silk Road Economic Belt and the Maritime Silk Road may be Chinese attempts to boost economic growth by exporting excessive manufacturing capacity — particularly in infrastructure — to neighboring countries. Because overseas infrastructure investment (e.g., high-speed railways) benefits China far more than recipient countries, it may bring about more resentment than gratitude. Last but certainly not least, the Chinese military seems ill-prepared to flex its muscles, due to widespread corruption. The last thing the new Chinese leadership wants to see is a humiliating defeat midst "the great rejuvenation of the Chinese nation."
So what will Chinese foreign policy look like 2015? "It's tough to make predictions, especially about the future," as Yogi Berra said. Nevertheless, there are already some signs of things to come. First, at the central conference on foreign affairs in November 2014, President Xi Jinping downplayed a new model of major-country relations with the United States, and emphasized instead major country foreign policy with Chinese characteristics. This could well mean that Chinese leaders may be less sensitive to U.S. perceptions of and reactions to Chinese "assertiveness."
Second, the East China Sea and the South China Sea have been quite calm for more than half a year, which might indicate the Chinese intention to improve border security. Most recently, China's position paper in response to Filipino claims in the South China filed in the international court of arbitration is another example of Chinese restraint.
Finally, President Barack Obama's initiatives to normalize relations with Cuba — arguably a miniature replica of Richard Nixon's China policy — will most likely galvanize Chinese leaders to reevaluate their policy toward North Korea. While North Korea is fundamentally different from Cuba in many crucial aspects, a U.S.-North Korea rapprochement is not impossible.
The coming 2015 may not see as many big strokes as in 2014, but it has the potential to bring us some big surprises. So stay tuned.