Where Is China's Silk Road Actually Going?
At the Boao Forum, China provided the clearest overview yet of its ambitious Silk Road plans.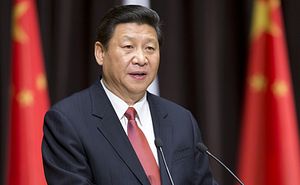 The Boao Forum for Asia, an annual economic dialogue held in China's Hainan Province, was an especially high-profile meeting this year; Chinese President Xi Jinping himself delivered the keynote address. The reason for the special emphasis was clear: Beijing selected the Boao Forum as the venue to deliver the first in-depth explanation of China's vision for the Silk Road Economic Belt and Maritime Silk Road, collectively known as the "Belt and Road."
During the Boao Forum, China's National Development and Reform Commission (NDRC), in conjunction with China's Foreign Ministry and Commerce Ministry, issued an action plan for the Belt and Road. Xinhua provided an English-language translation of the document. Beijing is not shy about its ambitions for the project — "The plan is expected to change the world political and economic landscape through development of countries along the routes, most of which are eager for fresh growth," Xinhua wrote. Beijing hopes that annual trade volume between China and "Belt and Road" countries will "surpass 2.5 trillion U.S. dollars in a decade or so," Xi said.
The plan is geographically ambitious as well, envisioning the Belt and Road as encompassing Asia, Africa, and Europe and their near seas. The land route "focuses on bringing together China, Central Asia, Russia and Europe," the document noted. The Silk Road is envisioned as "a new Eurasian Land Bridge" created by transportation routes, with "core cites" as links in the chain. There were less details on the maritime route, though the plan noted there would be two legs: one linking China to the Indian Ocean via the South China Sea and the other traveling through the South China Sea to the South Pacific. There was no list of concrete projects associated with the Belt and Road, but China held up the $23 billion worth of deals just signed with Kazakhstan as a model for other countries.
The document laid out the basic goals of the Belt and Road:
"It is aimed at promoting orderly and free flow of economic factors, highly efficient allocation of resources and deep integration of markets; encouraging the countries along the Belt and Road to achieve economic policy coordination and carry out broader and more in-depth regional cooperation of higher standards; and jointly creating an open, inclusive and balanced regional economic cooperation architecture that benefits all."
The Belt and Road are often understood primarily as infrastructure projects. Indeed, that will be the main focus in the early stages, as Chinese leaders have repeatedly spoken of infrastructure as a "bottleneck" preventing further economic cooperation. But there's more to the Belt and Road than simply the construction of roads, railways, and ports. Even on the infrastructure front, China's vision to "form an infrastructure network connecting all sub-regions in Asia, and between Asia, Europe and Africa" includes energy and communications infrastructure as well an transportation.
Infrastructure construction is the easy part, as many countries along the planned route are hungry for investment and funding. China's more ambitious goal is to have countries coordinate their policies to ensure that each individual country's economic development plan feeds into a larger regional vision.  That includes free trade areas, both bilaterally and regionally, as well as broad financial integration. On the financial front, Beijing wants expanded bilateral currency swap deals. Funding for the Belt and Road projects will be carried out through the new Asian Infrastructure Investment Bank (AIIB), China's own Silk Road Fund, and eventually through a hoped-for financing mechanism administered by the Shanghai Cooperation Organization.
The Belt and Road has political overtones as well, with China using the project as a vehicle to promote its own key foreign policy tenets, the Five Principles of Peaceful Coexistence. The Five Principles are "mutual respect for each other's sovereignty and territorial integrity, mutual non-aggression, mutual non-interference in each other's internal affairs, equality and mutual benefit, and peaceful coexistence." Those principles, laid out in a 1954 treaty with India and Myanmar, celebrated their official 60th anniversary last July.
China envisions the Five Principles as the basis for a uniquely Asian regional foreign policy, one that frowns upon Western-style "interference" in other countries over human rights concerns. Xi was also quite clear in his remarks that the Asian security architecture should leave behind the "Cold War mentality" to explore "new security concepts" — echoing China's previous calls for a shift away from the U.S.-led alliance structure that currently lynchpins regional security.
China set up a leading group to oversee implementation of the Belt and Road, making it clear that this initiative is a political priority. "Construction of the belt and road is a huge and systematic job … that calls for strengthened leadership and coordination of domestic and foreign affairs," the leading group said in a statement announcing its formation.
As part of the preparation for the Belt and Road, China will work with other countries "so that they gain a better understanding of the initiative," Xinhua said. That may be a tacit acknowledgement that some other countries are wary that the Belt and Road is China's attempt to assert regional hegemony. Xi tried to dispel these fears in his Boao speech, promising that China will not dominate the plan. The Belt and Road "will be a real chorus comprising all countries along the routes, not a solo for China itself," Xi said.