China's Property Slowdown Prompts Diversification
Chinese property developers are looking beyond real estate as they seek to shore up earnings.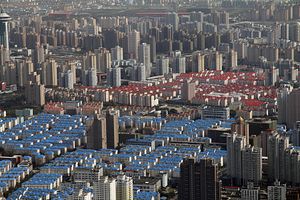 China's real estate sector has experienced a slowdown in recent months, with average home prices falling in October and November of this year, and volatility in home prices setting in mid-year. The property downturn has caused some small property development firms to fail, and has forced larger developers to diversify their businesses to maintain profit levels.
While national average home prices have declined in the past two months, average home prices dipped in second-tier cities Nanning and Foshan in July of this year and in first-tier cities Beijing and Shanghai in August, as developers lowered home prices in a bid to buoy sales. The average home price declines currently experienced are the lowest seen since 2011. While housing starts have picked up again across first, second and third-tier cities, real estate developers have continued to diversify into other ventures in order to maintain levels of profitability.
The profit squeeze has occurred due to increased costs of funding, increasing land transaction prices, and a drop-off in demand. Property developers have attempted to shore up home prices and sales by offering discounts, which have taken many forms. Vanke, for example, offered discounts to homebuyers shopping Alibaba's Taobao website, while Poly Real Estate offered discounts based on weight lost by homebuyers. Average discounts provided by developers amount to about ten percent.
In addition, more than thirty cities removed purchase restrictions implemented in 2010, albeit with little impact. Home purchase restrictions had prevented certain individuals from purchasing more than one home. While developer discounts have spurred some sales, lifting home purchase restrictions has not had much success.
Diversification has helped the largest companies maintain their financial performance. Dalian Wanda, which purchased AMC Cinemas in 2012 and revealed plans to build a film studio in Qingdao in 2013, expanded into the O2O (online to offline) e-commerce market this year, forming a venture with Baidu and Tencent. Wanda took the largest ownership of the new firm, with a 70 percent stake. Vanke signed off on a venture with the Carlyle Group to set up a financial platform for the sale of long-term commercial property assets. Vanke is the largest real estate developer in China, and profit margins remain healthy, at 23.8 percent, only 1.1 percentage points less than in 2013.
Evergrande Group diversified into grain and oil, announcing plans to invest more than 100 billion RMB ($16 billion) in commercial agricultural ventures in Inner Mongolia and Heilongjiang. The firm will market its food products as safe, in contrast to some products that were found to be tainted by non-food or harmful materials. Evergrande also has a 5 percent stake in China's Huaxia Bank and launched its own bottled water brand in January of this year. Evergrande continued to experience some growth in recurring net profit in the first half of 2014.
Most real estate companies are unable to participate in these types of large-scale ventures and are looking to destock in 2015, with a heavy emphasis on boosting sales to combat excess supply. Excess housing stock exists in more than one-third of Chinese cities. Developers are also increasingly looking to the internet and big data analysis as a marketing channel. A new trend in the real estate industry for 2015 will also be the sale of small apartments that cater to younger buyers.
The slowdown in the real estate sector has put downward pressure on GDP growth. The Chinese government will be hoping that improvements in the sector contribute to a growth revival in 2015.