5 Trends in China's Real Estate Market in 2017
China's real estate sector will boom in some areas, and struggle in others.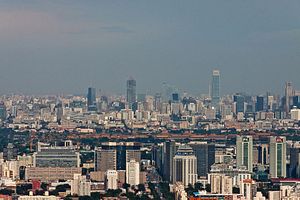 China's housing market boomed with rapid, record-breaking sales and price growth in 2016 but recent policy tightening makes the outlook for 2017 quite different.
Here are five trends that will shape the development of the China's housing market in 2017:
Targeted tightening: During 2017, policymakers will maintain strict sales and loan restrictions targeted at buyers in the first-tier and second-tier cities that saw rapid price growth in 2016, including Shenzhen, Shanghai, Hefei, Nanjing, and Suzhou. In contrast, local governments in cities with steady price growth and high housing inventories, such as Beihai, Jining, and Lanzhou, will support buyer demand and promote rural-to-urban migration through policies such as discounted loans for first-home buyers and lower qualification thresholds for urban residency.
Market differentiation: Different policy approaches means different sales trends between cities. Generally speaking, first-tier cities and the second-tier cities that saw explosive growth last year will see sales fall year-on-year (y-o-y) in 2017. In contrast, cities with higher housing inventories and continued policy support will likely see growth, and trends so far this year are bearing this out: In January 2017, sales in Shenzhen dropped 23.6 percent y-o-y, while sales in Huanggang and Anqing — third tier cities in Hubei and Anhui provinces — grew 122 percent and 87 percent y-o-y, respectively.
Slower price growth: The government's determination to rein in price growth should not be underestimated. Since local governments in Shenzhen and Hefei moved to cool property demand and runaway price growth with a raft of new policies in October, both cities saw consecutive month-on-month price declines in November and December. That said, a sustained, nationwide drop in prices looks unlikely because inventories and housing supplies remain low in key cities, demand is heating up in lower-tier markets, and developers will be loathe to cut asking prices, especially after land and construction costs have grown in the past year.
Industry consolidation: Developers may struggle amid a gloomy sales outlook in some cities and the Chinese government's recent curbs on bond financing for real estate companies. With this in mind, plus a deluge of developer debt falling due in mid-2017, larger players flush with cash after 2016's bumper sales performance will likely look to acquire smaller companies to grow market share and access land resources. In 2016, Chinese developers spent more than $42 billion on domestic M&A, and with the above factors in mind, conditions look right for an increase on that total in 2017.
Investment slowdown: Tighter capital conditions, higher land prices, slower price growth, narrowing profits, and a weaker sales outlook means developers will invest less in new projects, and that means slower economic growth. Real estate fixed asset investment (FAI) accounted for 7.9 percent of 2016 GDP growth and the Chinese Academy of Social Sciences expects real estate FAI to grow slower than the 6.9 percent seen in 2016 — a key factor underlying why the IMF has forecast slower economic growth for China of 6.5 percent in 2017, compared with 6.7 percent in 2016.
With these factors in play, China's real estate sector will continue to grab the headlines through 2017, though for quite different reasons than in 2016. This year, though, the government will have to offset slower growth in the sector and look for alternative ways to support the economy, which we will look at in the coming weeks.