HIV Tragedy Tops 200 in Cambodia
One unlicensed doctor appears to have caused a major outbreak of the virus.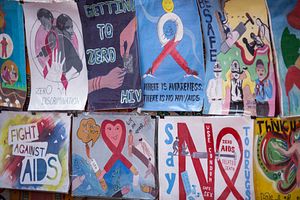 In a small village in Cambodia's west, a tragic tale of  international significance has caught the local authorities off-guard. An unlicensed doctor has been charged with causing an outbreak of HIV and murder after lax practices resulted in at least 201 people contracting the potentially fatal disease.
Children as young as four months and senior citizens in their 80s are among those diagnosed with the human immunodeficiency virus, since one patient who visited Yem Chroeum and tested positive in November began urging others who sought his medical help in Roka to be screened for HIV.
Police have alleged that Yem Chroeum routinely re-used dirty syringes while boasting of having great healing powers when attending the poor. He was often in demand for treating high temperatures, sometimes associated with dengue fever, influenza or typhoid.
Villagers said intravenous drugs and needles were used by Yem Chroeum in the treatment of common colds.
He had worked in the area for at least a decade and a cache of used and unused syringes were seized from his home during a search by police. Since then those who have tested positive include 17 migrant workers from Thailand. In one family 15 out of 16 members tested positive.
Cambodian Prime Minister Hun Sen was almost disbelieving at the extent of the tragedy at Roka, near Battambang, when first speaking about the outbreak in mid-December. He initially dismissed the results as erroneous.
"Right now, 99 percent, I don't believe it's AIDS," the prime minister said, referring to the disease which is caused by HIV infection. "They might have a virus but its not AIDS. Can an 80 year-old person get AIDS? And can young people who do not know anything get AIDS."
Speaking to students at a graduating ceremony he questioned the methodology used in the initial tests asking: "If we bring this machine here, half of us might also find out we have AIDS."
However, government health tests have been conducted with the assistance of three United Nations agencies and the Center for Disease Control and Prevention in the United States.
Hun Sen was obviously wrong, although most Cambodian observers are suggesting the prime minister was ill-advised.
Health Minister Mam Bunheng has been summoned before the National Assembly for questioning and the government has signaled a crackdown on illegal medical practices and people passing themselves off as doctors.
Cambodian health authorities have been widely applauded in recent years for their dealings with the virus. U.S. ambassador William Todd said the government deserved to be commended for bringing the outbreak to the attention of the outside world.
"It is critically important to have precise and timely information about suspected outbreaks so that the appropriate corrective measures can be taken," he said.
"As officials continue to gather more facts from what has occurred in Battambang, I urge everyone to avoid inaccurate information and unnecessary fears about HIV. Misinformation can lead to discrimination, preventing people from getting tested and seeking treatment."
Unfortunately, reports of discrimination are emerging from Roka and surrounding communes. Barbers are refusing to cut the hair of people who have tested positive. Others are unable to venture out in public. Some victims have been turned out of their homes by their own families.
Yem Chroeum faces life in prison if convicted. However, villagers in Roka are threatening local justice. Deputy commune chief, Seoum Chhorm who – along with his wife and two grandchildren –  has tested positive for HIV and has threatened to kill Yem Chroeum.
"Police cannot stop us killing him," he said.
Luke Hunt can be followed on Twitter @lukeanthonyhunt