Malaysia Accused of Mistreating Refugees
A documentary produced by Al Jazeera makes some worrying claims.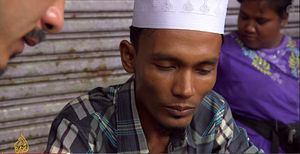 A documentary produced by Al Jazeera has portrayed the Malaysian government as neglectful of the rights of refugees and asylum seekers in the country's detention centers.
The claims were supported by Richard Towle, the representative for Malaysia of the United Nations High Commissioner for Refugees (UNHCR).
"Refugees are treated as illegal migrants, and illegal migrants are at risk of all forms of vulnerability in society. They are liable to be arrested and detained and live in a grey or dark zone of society where there is a high degree of exploitation or abuse," Towle said in an interview, also with Al Jazeera.
Towle urged Malaysia to improve its detention policies concerning refugees: "They may have transgressed some regulations and laws about migration status, but at the end of the day they're ordinary people and they're entitled to be treated in a humane and fair way."
According to the UNHCR, there are 148,940 refugees and asylum-seekers registered with the agency as of September 2014. About 137,770 are from Myanmar, comprising some 50,840 Chins, 40,660 Rohingyas, 12,040 Myanmar Muslims, 7,520 Rakhines  and Arakaneses. There are 32,010 children below the age of 18. The number of asylum seekers from neighboring Myanmar soared after 2011 when clashes broke between some Muslims and Buddhists which forced the persecuted Muslim minority known as Rohingya to seek shelter in several Southeast Asian countries.
Towle noted that Malaysia has refused to sign the 1951 Refugee Convention or its 1967 Protocol to recognize the status of refugees. Since refugees are considered illegal immigrants, they are subjected to harsh penalties when caught. They cannot access basic services provided by the state and their children cannot attend public schools.
Deputy Home Minister Wan Junaidi has denied the allegations made in the documentary. He insisted that refugees are not being maltreated.
"Even though we are not a signatory to the convention of refugees, they are being treated with dignity, they are given access to medical treatment and they are allowed visits," he said.
The minister stressed that children's rights are being respected and that Malaysia has been compassionate in dealing with the growing number of refugees crossing its borders.
But it is not just the local government that is accused of violating the rights of refugees. Even local UNHCR staff were implicated by Al-Jazeera in a corruption scheme, after some refugees claimed that some officers were demanding money in exchange for an early interview with UNHCR. The interview is essential to ascertain the status of the refugee and the possible resettlement of the individual or family in another country. The UNHCR office in Malaysia has vowed to probe the issue.
Malaysia is seen as a safe haven by many people, especially those escaping local wars, ethnic clashes, and other conflicts that continue to displace thousands of people each year in Southeast Asia. For persecuted Muslims, Malaysia is the top choice for asylum-seekers since it has a predominantly Muslim population. But perception is often different from reality, with the Al Jazeera documentary showing refugees suffering from discrimination and maltreatment.
The Malaysian government, the UNHCR, and civil society groups monitoring the human rights situation in the country will need to come together to address this issue and ensure better protection for refugees and asylum seekers.