New Year's Predictions for Southeast Asia
CFR's Joshua Kurlantzick with five predictions for Southeast Asia in 2015.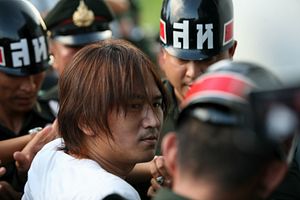 It's that time of year again. Since I will be away between Christmas and the end of the year, this is the week for boldly making predictions about 2015 in Southeast Asia. At the end of 2015, just like this year, we can look back and see how many of my fearless predictions were right, and how many missed the mark.
This post will offer five predictions; you will have to wait a few days for the other five.
10. Thailand's ruling military regime pushes elections back farther
The Thai regime already has put off planned elections from late 2015, the date mentioned shortly after the coup government took power, to 2016. But the process of drafting a new constitution is, even with a rigged drafting committee, going to be more complicated than the army initially thought. Thais are becoming more vocal about expressing their desire for directly elected leaders and about having some say over the final draft of the constitution. In addition, although the Thai media has mostly become quiescent, it has not completely given in to army rule, as would have happened in the past. Several prominent media outlets continue to criticize the military for maintaining martial law, detaining activists and journalists, and keeping the constitution drafting process opaque.
In the face of mounting opposition, coup leader Prayuth Chan-ocha, whose intolerance of public debate is showing through more and more each day, is likely to postpone the final drafting and approval of the constitution even farther into the future. Indeed, elections might not be held in 2016, and could possibly wait until 2017. If the royal succession process remains plagued with uncertainty, such as continued instability in the Crown Prince's household, this instability will only reinforce Prayuth's desire to delay a handover back to civilian rule.
9. Tony Abbott confronts a test from within his party
Australian Prime Minister Tony Abbott's personal unpopularity is dragging down the Liberal Party. The Liberals' coalition just lost state elections in Victoria, the first time in sixty years a government has been defeated in Victoria after just one term; polling showed that Abbott's personal unpopularity spilled over into Victoria, influencing state voters to go against the Liberals in the state election. Abbott has often looked befuddled on foreign policy. He was taken by surprise by Barack Obama and Xi Jinping's major climate deal, announced on the eve of the G-20 summit in Australia, and he has repeatedly stumbled on crafting an effective and humane Australian policy for dealing with refugees. Abbott frequently has appeared tone-deaf in dealing with members of his party, the media, and the public. Indeed, he has one of the lowest popularity ratings of any Australian prime minister in modern history. However, the Liberal Party retains decent ratings for now. In the cutthroat world of Australian politics, where prime ministers can be dumped a few weeks before an election, expect other leading Liberals to try to oust Abbott in an internal party vote in 2015.
8. Jokowi faces major challenges to his new maritime doctrine
Indonesian President Joko "Jokowi" Widodo announced an ambitious new Indonesian foreign policy doctrine at the East Asia Summit in November. Jokowi declared that Indonesia was going to become a maritime power, playing a larger role in Indian and Pacific Ocean trade, upgrading its ports and infrastructure, and modernizing its navy to protect Indonesian territorial waters and exclusive economic zones. In the weeks since Jokowi's speech, Indonesia has taken several tough actions designed, I think, to show that the president means business. The first week of December, Indonesia sank several Vietnamese fishing boats that were allegedly illegally fishing in Indonesian waters; after the sinking, one of Jokowi's top advisors, Rizal Sukma, told reporters, "We sank Vietnamese boats last week…maybe we will sink Chinese boats after that." (More details on Sukma's speech can be found here.)
Jokowi's vision, though ambitious, is a long way from reality. In 2015, as Indonesia tries to translate this doctrine into actual policy, it will face multiple obstacles. For one, the doctrine will now be subjected to intense intra-bureaucratic fighting within Jokowi's cabinet, and it remains unclear whether the coordinating minister responsible for the new maritime policy will have the clout to handle Indonesia's notoriously challenging intra-bureacratic warfare. Secondly, Indonesia will face serious pushback from China, which up to now has mostly focused its South China Sea claims on areas disputed with the Philippines and with Vietnam. However, China's claims to areas near Indonesia's Riau islands are becoming a point of diplomatic friction between Beijing and Jakarta, and the not-so-subtle message sent by the sinking of the Vietnamese boats will not play well in Beijing. Although China has taken a relatively soft approach toward Indonesia, trying to cultivate Southeast Asia's biggest power, a more emphatic Indonesian defense of its waters, including sinking Chinese vessels, will surely be met with a tough response from Beijing.
7. Aung San Suu Kyi will not become president of Myanmar
In my next post, I will offer some projections of the likely results of Myanmar's 2015 national elections, scheduled to be held next autumn. But whatever the result of the election, Aung San Suu Kyi is almost surely not going to become president of Myanmar. Suu Kyi's party, the National League for Democracy, appears to be giving up its efforts to try to change the Myanmar constitution before the election, in the face of intense opposition to a constitutional change from the Burmese army. The constitution contains a clause barring Suu Kyi from becoming president because she was married to a foreigner.
6. Thailand's 2015 growth rate will fall below 4 percent
The World Bank currently predicts that Thailand will grow by 4.5 percent in 2015, year-on-year. Even this rate of growth would be among the slowest in Southeast Asia – the Bank predicts the Philippines will grow by nearly 7 percent, Indonesia will grow by 5.6 percent, and Vietnam will grow by 5.5 percent. But I am doubtful that Thailand will even reach 4 percent growth for 2015. Continuing political uncertainty will weigh heavily on Thai consumers, seriously depressing domestic consumer spending. In addition, political uncertainty – and the high-profile international coverage of several recent murders of foreign tourists in Thailand – will hurt tourism badly. Tourism revenues account for between six and seven percent of Thailand's total annual GDP. Finally, Japanese companies, the most important investors in Thailand, will continue to slowly move some of their investments to Vietnam and other countries in the region, worried about Thailand's political instability and the long-term competitiveness of Thai labor.
Joshua Kurlantzick is a fellow for Southeast Asia at the Council on Foreign Relations. This post appears courtesy of CFR.org.