A Tough Year for Southeast Asia's Opposition Parties
Opposition figures across the region have faltered this year.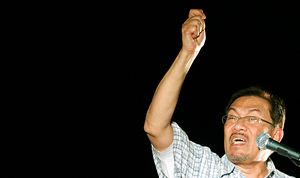 If protests and minor election setbacks hounded the ruling parties across Southeast Asia in the past two years, their situation this year has already improved somewhat as opposition leaders in the region run into varying difficulties.
In Myanmar, opposition leader Aung San Suu Kyi still cannot run for the presidency because of a constitutional provision which disqualifies candidates who have a foreign spouse or child. Her party, National League for Democracy, is calling for a constitutional referendum, an idea that has widespread support, but the military-backed government has the final say. But this legal issue is not the only problem for Suu Kyi. Recently, her credentials as a democracy icon were tarnished when the international community questioned her silence over the persecution of the Rohingya, a Muslim ethnic group that is not recognized by the government. Some believe Suu Kyi is unwilling to speak in favor of the Rohingya so as not to displease some Buddhist nationalists and other influential electoral forces.
In Malaysia, opposition leader Anwar Ibrahim is serving a five-year prison term for sodomy. Anwar insists the charge is politically motivated and he is most likely correct; but if he fails to get a royal pardon, his continued incarceration could leave the fragile opposition coalition in disarray. Yesterday, Anwar appealed for unity after an Islamic party passed a resolution to cut ties with one of the opposition parties. How long can Anwar remain an effective leader and voice of the opposition while he is behind bars? Fortunately for him, the prime minister is also embroiled in a political and leadership crisis after being linked to an investment fund mess.
In the Philippines, opposition leader and the country's incumbent Vice President Jejomar Binay has been accused of corruption, which could derail his bid to become president in 2016. Binay has consistently topped pre-election surveys but his ratings have tumbled after his rivals have stepped up a campaign to expose his alleged involvement in some dodgy government projects. As election season nears, more and more people are voicing their apprehension over the dangers of a Binay presidency. If the administration succeeds in disqualifying Binay in the next several months, the opposition doesn't have a viable alternative who can match the popularity of the vice president.
In Thailand, the junta remains in power more than a year after the army launched a coup and declared martial law to end the country's political crisis. It vowed to restore civilian rule and free elections but it delayed the holding of a constitutional referendum until next year. Politicians are regularly summoned by the army and those who are suspected of undermining the government are ordered to undergo 'attitude-adjustment' sessions. Protest actions are still banned. Former Prime Minister Yingluck Shinawatra is facing trial over a rice subsidy scheme while her brother, former Prime Minister Thaksin Shinawatra, is being investigated anew for a lèse-majesté violation.
Singapore's People's Action Party, which has been in power for five decades already, remains the dominant party in the country. It has lost some seats in several elections in the past and a growing number of young people are challenging the PAP brand and way of doing politics, but it still represents the supreme power in Singapore. The recent death of Singapore founder Lee Kuan Yew inspired many to review the successful transformation of the island state into a prosperous global city under the leadership of PAP. Singapore's 50th anniversary this year is another opportunity for PAP to boost its image and consolidate its political base.
Cambodia's ruling party lost a significant number of seats in 2013, but Hun Sen remains prime minister, allowing him to retain his unofficial title as Southeast Asia's longest-serving leader. The opposition, led by Sam Rainsy, has boycotted parliament and accused the government of electoral fraud. After months of protests, the opposition finally agreed to attend parliament. Some analysts believe the current "dialogue" between the ruling party and the opposition is a Machiavellian ploy by Hun Sen to strengthen his power by targeting the constituency that supported the opposition in the last election.
Only in Indonesia has the opposition been able to defeat the ruling party. Jakarta Governor Joko "Jokowi" Widodo won despite lacking ties with the old order represented by the military and cronies of the late strongman Suharto. Jokowi's victory offers valuable lessons for other rising leaders and opposition forces across the region. His rapid rise up the political ladder is attributed to his innovative leadership as mayor and governor, which endeared him to the youth and middle classes. He also won the support of ordinary Indonesians who were impressed with his modest background. But a year after in power, Jokowi is accused of being beholden to a powerful political patron. His detractors call his leadership weak. Will he survive the machinations of Indonesian politics?
All in all, 2015 is turning out to be a good year for ruling parties in Southeast Asia. Some are plotting to win back voters, others are succeeding in eroding the appeal of rival political forces, and others still are tightening their grip on power. The existence of a genuine opposition is part of any modern democracy. Can Southeast Asia's opposition parties regain their momentum?