Top US General: North Korea is Making Progress on Asymmetric Capabilities
The commander of U.S. Forces Korea highlighted North Korea's progress in developing asymmetric military capabilities.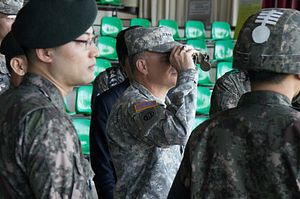 Speaking in Seoul last week, Gen. Curtis Scaparrotti, the top commander of U.S. Forces Korea (USFK) and the Combined Forces Command (CFC), remarked that the United States and South Korea were concerned by North Korea's recent progress in developing asymmetric military capabilities. Gen. Scaparrotti offered insights that reveal the current South Korean and U.S. understanding of North Korean leader Kim Jong-un, a man who despite having been in power for over two years, remains an enigma. Despite this, North Korea strategy has remained mostly consistent in recent years, with a focus on asymmetric capabilities.
"Kim Jong-un, unlike his father Kim Jong-il, is overconfident and unpredictable," Gen. Curtis Scaparrotti remarked, adding that Kim, "realizing that he cannot win in a conventional war, [has] focused on his military development and training on asymmetric capability. I would tell you that the North Korean military is making progress in these areas." Specifically, Gen. Scaparrotti noted that the United States' "top concern is that we have very little warning of the North's asymmetric attack, which could start a cycle of action and counter-actions. This underscores the need for the alliance to maintain a high level of readiness."
While North Korea has generally relied on aging and obsolete military technology bolstered by a large standing military force to stand against South Korea and the United States, it recognizes its weakness in a potential conventional war. As a result, it has focused largely on developing asymmetric capabilities that would help it deter its enemies. These capabilities include ballistic missiles, artillery, chemical and biological weapons, remotely piloted aircraft, and submarines. The North Korean regime additionally prioritizes the country's nuclear program for the asymmetric deterrence benefits a ballistic missile-mounted nuclear device would bring Pyongyang.
During his speech, Gen. Scaparrotti additionally addressed the issue of U.S.-South Korea talks on operational control (OPCON) transfer during wartime. Following a series of negotiations, OPCON transfer was officially delayed in line with South Korean wishes. Under the current timeline, OPCON handover will occur in the mid-2020s. Gen. Scaparrotti highlighted the progress the United States and South Korea had made on C4I: command, control, communications, computers and intelligence. He called for continued progress in these areas and also stressed the need for U.S.-South Korea cooperation on ballistic missile defense, critical munitions, and intelligence, surveillance and reconnaissance (ISR). "During this past year, we made progress in the aforementioned areas, but we must maintain irreversible momentum," he said.