5 APAC Security Trends to Watch in 2015
Flashpoints' Robert Farley outlines five trends to follow in the Asia-Pacific in 2015.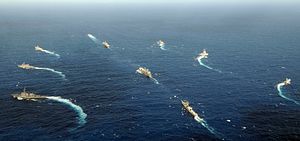 As 2014 begins to recede from memory, here are some situations we can expect to develop over the next year:
We may get some clarity on what to expect from Russia in East Asia over the course of the next year. Russia ended 2014 on a low note, isolated from the international community and struggling with a collapsing economy. Moscow has attempted to recoup some of its losses by developing more significant energy and trade relations with China, and 2015 should give us a better sense of Beijing's receptivity to these overtures. At the same time, Russia's intention to sell more military equipment to regional rivals like Vietnam may strain relations with China.
The F-35 continues to struggle, with the latest reports indicating significant problems with its targeting systems. 2015 should give us a better handle on the JSFs export prospects in the Asia-Pacific, as South Korea and Japan still have the opportunity to make key decisions on the plane's future.
Over the course of the next several months, the 70th anniversary commemorations of the end of World War II in the Pacific will provide a variety of political actors with opportunities to cause trouble, or to cool tensions. The anniversaries of the nuclear attacks on Hiroshima and Nagasaki, and the Japanese surrender in September, may prove especially tense for relations between Japan, China, and South Korea.  These events will sorely test the ability of Shinzo Abe to balance between his own governing coalition, and Japan's international obligations.
The fallout from the collapse of global oil prices has thus far been muted in East Asia, mostly because the big producers have been preparing for an import-oriented future for quite some time. However, the decline in oil prices may make energy exploration in the South China Sea a less lucrative prospect, and conceivably could contribute to a dialing back of maritime tensions in the region.  Among importers, the price decline could help drive economic growth.
The Afghan National Army won't quite be on its own in 2015, but it does begin the year with less foreign support than it's enjoyed since the fall of the Taliban.  Estimates of ANA capabilities over the last year have trended grim, but we should get a better sense of how well it can perform in the spring and summer fighting seasons.  If things go badly, the United States and other regional players may feel the need to step up support.
As always, the most interesting developments of the year will come from unexpected events.  Nevertheless, broad trends will structure the options that the major players have for reacting to those events.