9 Takeaways on US-India Ties After Obama's India Visit
Narendra Modi and Barack Obama have created important positive momentum in Indo-U.S. ties.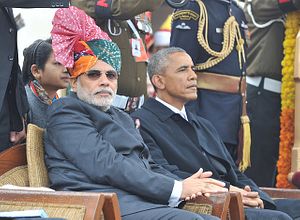 After arriving in India over the weekend, U.S. President Barack Obama concluded a series of bilateral agreements with Indian Prime Minister Narendra Modi. Obama, who was invited to India as the chief guest for India's annual Republic Day celebrations, broached the once-uncomfortable topic of climate change with Modi, making surprising progress on the issue. The two leaders followed up on themes addressed during Modi's September 2014 trip to the United States and addressed some issues that had been on the U.S.-India bilateral back-burner for several years now. What follows below is a quick distillation of nine highlights out of the released joint statement, joint strategic vision document, and the visit overall. I'll likely follow this up shortly with more detailed analysis on at least a couple of these points. I put together a similar summary of the previous U.S.-India bilateral joint statement after Modi's U.S. trip, which focused primarily on defense and security issues that may help contextualize some of the below.
1. Ahead of this visit, the U.S. made it clear that both energy cooperation and climate change would be on the agenda. Unsurprisingly, one of the first announcements to come out of New Delhi during Obama's visit was that the two countries had reached an agreement on climate change. Where previously India had resisted the notion that developing countries who had contributed little to global greenhouse gas production in the past should place caps on current emissions at the behest of developed countries, Modi seems to have partly revised India's position. India will expand its use of renewable energy and move toward joining an international deal on global warming that would see developed and less-developed countries alike cap emissions. The development is a coup for the United States, which had similar success with China late last year. "When we think about the future generations and what kind of a world we are going to give them, then there is pressure," Modi told the press after speaking with Obama. Obama, for his part, emphasized India's importance for a global climate regulation regime: "India's voice is very important" in negotiations, he said. Under a new agreement, the United States will also provide funding for renewable energy development in India.
2. Interestingly, the joint statement notes a confluence of two major East Asia-facing strategic initiatives by the two countries. The statement noted the alignment of "India's 'Act East Policy' and the United States' rebalance to Asia," and the potential "opportunities for India, the United States, and other Asia-Pacific countries to work closely to strengthen regional ties" as result. This language did not appear in the September 2014 joint statement. Combined with the symbolism of Obama presiding over India's Republic Day military parade, this sends a particularly strong message to Beijing. On a similar note, if you're one for close textual analysis (as I sometimes am), the sixth clause of the statement highlights the "diversified" U.S.-India partnership with "strategic consultations, stronger defense, security, and economic cooperation." Do take the ordering of those facets of cooperation with a grain of salt, but generally, the United States avoids emphasizing defense cooperation before economic cooperation in statements with countries that aren't explicit allies.
3. On economics, the joint statement ticked all the usual points, promising increased trade and investment opportunities. The phrase "bilateral investment treaty" appears in this joint statement where it did not appear in the September 2014 document, suggesting that the two countries are serious about walking the walk on improved economic ties. U.S. firms in particular have complained about excessive red tape and corruption as risk-adding factors for doing business in India and a potential bilateral investment treaty negotiation process would likely require significant domestic political support in India.
4. The U.S.-India Defense Technology and Trade Initiative (DTTI) once again makes an appearance. Back in September 2014, the two leaders noted that their countries would "treat each other at the same level as their closest partners" on issues including "defense technology transfers, trade, research, co-production, and co-development." The DTTI is poised to increase co-production, co-development and partnership in U.S.-India military-industrial matters. The initiative is line with the Modi government's plans to increase India's defense self-sufficiency and increase the share of India's military hardware that is manufactured on Indian soil. There isn't too much new information about the DTTI in this statement, though Modi's new "Make in India" initiative gets a shout-out in the context of defense co-production.
5. Though not noted on the joint statement, Obama's visit resulted in the revelation of more than a few straight-up hardware deals, including the joint production of parts and systems of the Lockheed C-130 (which India operates), and RQ-11 Raven drones. Both of these deals had appeared in reports prior to Obama's trip. India will take delivery of six additional C-130s through 2017.
6. I noted back in September that the statement made then marked the first occasion the two countries officially pronounced their joint support for the principle of the freedom of navigation in the South China Sea and for resolving territorial disputes under UNCLOS. In the latest joint statement, neither the South China Sea nor UNCLOS makes an appearance. The Joint Strategic Vision document, however, notes that "regional prosperity depends on security. We affirm the importance of safeguarding maritime security and ensuring freedom of navigation and over flight throughout the region, especially in the South China Sea." That same statement adds that the two countries "call on all parties to avoid the threat or use of force and pursue resolution of territorial and maritime disputes through all peaceful means, in accordance with universally recognized principles of international law, including the United Nations Convention on the Law of the Sea." North Korea's nuclear program makes an appearance in the joint statement yet again. Similar to the September statement, "human rights" are nowhere to be seen.
7. The statement as usual includes more than a few clauses addressing terrorism, law enforcement, and counter-terrorism. Naturally, both countries will increase their cooperation on these issues. Similar to the September statement, Pakistan-based anti-India terror groups are called out by name in the joint statement. The two leaders pledged to come together "to disrupt entities such as Lashkar-e-Tayyiba, Jaish-e-Mohammad, D Company and the Haqqani Network." Once again, they  "reiterated their call for Pakistan to bring the perpetrators of the November 2008 terrorist attack in Mumbai to justice."
8. One issue that has been on the U.S.-India back-burner for some time now came to the fore during this visit: the issue of nuclear energy and civil nuclear liability in India. Famously, the United States and India concluded a civil nuclear cooperation agreement 2006 and, in 2008, India received a waiver from the Nuclear Suppliers Group, making it the only non-nuclear Non-Proliferation Treaty (NPT) compliant state to engage in normal nuclear commerce while maintaining an active nuclear weapons program. Unfortunately, India is yet to attract U.S. suppliers to set up nuclear facilities on its soil due to an unfortunately harsh legal liability regime in the form of the 2010 Civil Liability for Nuclear Damage Act. This law creates unacceptably high amounts of risk for foreign suppliers. To address this, Obama and Modi are exploring the possibility of an insurance pool that will, in theory, moderate the risk exposure for U.S. suppliers and bring U.S. nuclear suppliers into India (this is a complex issue and Praveen Swami over at The Indian Express has a great primer outlining the stakes). For the moment, according to the New York Times, Westinghouse and GE Hitachi Nuclear Energy have welcomed the agreement.
9. As I noted above, both India's "Act East" policy and the U.S. rebalance to Asia make an early appearance in the joint statement. The statement notes later that India and the United States will "work more closely with other Asia Pacific countries through consultations, dialogues, and joint exercises." Interestingly enough, the next sentence specifically highlights the importance of the U.S.-India-Japan trilateral relationship. Japan is a U.S. treaty ally and an increasingly close partner to India. Japan's Prime Minister Shinzo Abe was India's chief guest at last year's Republic Day celebrations.
Overall, this visit is a strong indicator that U.S.-India ties will follow a positive trajectory over the course of this year. It was indeed bold of Indian prime minister Narendra Modi to extend an offer to Obama to visit India so soon after visiting Washington himself. Obama, by accepting, became the first sitting U.S. president to visit India twice while in office (though Obama did cut his visit short to visit Saudi Arabia to pay respects to its recently deceased king). It's been clear for some time now that the United States and India are strategically converging. Unfortunately, given India's low standing on the list of U.S. foreign policy priorities and latent skepticism about U.S. intentions in India, the pace of that convergence was sluggish. If Obama's visit and Modi's 2014 U.S. visit are any indication, both countries are serious about making up for lost time.