Amid Hostage Crisis, Japan's Diet Prepares to Debate New Security Legislation
Shinzo Abe and the LDP plan to submit security legislation for approval during this session of Japan's Diet.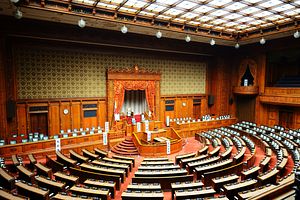 The Japanese Diet convened yesterday for a 150-day ordinary session, set to last until June 24. During this period, Prime Minister Shinzo Abe's ruling Liberal Democratic Party (LDP)-Komeito coalition government is expected submit 70 to 80 bills for consideration, of which approximately ten will deal with security issues to loosen restrictions on the use and dispatch of Self-Defense Forces overseas. Before the Diet opened, Abe addressed a meeting of LDP politicians and stated, "This is an extremely important Diet… We also must establish security legislation to protect the lives of Japanese and our peaceful way of life."
The government's challenge is to craft a legal framework for Japan to "seamlessly" respond to crises in which it will exercise its right to collective self-defense. Japan has the right to collective self-defense, or the right to come to the aid of an ally under armed attack, in accordance with the reinterpretation of its constitution last July.
In order to fully utilize the SDF, the government will examine conditions under which the right to collective self-defense can be invoked, in particular how the SDF can be defensively mobilized to come to the aid of a country with close ties to Japan. This has led to concerns about how foreign entanglements could endanger Japanese lives. For example, Komeito, LDP's junior coalition partner, is unenthusiastic about sending minesweepers to the Strait of Hormuz before a ceasefire agreement is reached.
Another area of debate is the expansion of rear-line support to multinational forces by the SDF. The LDP wants to establish a permanent law that will allow for continuous overseas dispatch of the SDF for supply and transport missions. Abe argued that such support does not have to be military in nature, and can be constitutional with or without a U.N. resolution. However, Natsuo Yamaguchi, the Komeito party's chief representative, took a different position, saying that rear-line support should be limited to responses by the international community, which must be legitimated through a U.N. Security Council resolution.
Though supportive of existing laws that provide for Japanese logistical support for U.S. troops in case of a contingency in areas surrounding Japan – namely, a crisis on the Korean peninsula – Komeito is extremely cautious about any expansion of geographic scope. Komeito would rather deal with each crisis on a case by cases basis through special measures laws rather than creating a new permanent law. Komeito will most likely play a key role in moderating Abe's proposals; as a senior party member promised, "The debates will not be easily concluded."
Komeito remains the most significant opposition to revising security legislation, as neither the Japan Innovation Party (JIP) nor the Democratic Party of Japan (DPJ) have clear positions on the issue yet. In the context of the ongoing hostage crisis, which many believe is a response to the humanitarian non-military aid that Abe pledged to Middle Eastern countries fighting the Islamic State, both opposition parties have expressed hesitation about going too far. Kenji Eda, the JIP leader stated, "Japan must be cautious of its relationship with the United Nations in the sweep against the Islamic State headed by the U.S. armed forces. If we are considered an ally of the U.S. military, one act of terrorism could call in further acts of terrorism."
Recently elected DPJ President Katsuya Okada stuck to the Yoshida tradition and questioned how this security legislation could lead to entanglement as Japan will no longer have an "excuse" for sitting out on conflicts around the world. "If the United States requests more direct involvement, can the Japanese government refuse it by saying, 'we only conduct humanitarian aid?'" Okada asked. Though they raise valid concerns, no opposition party has managed to articulate an alternative vision about what Japan should do in order to protect its security interests – not just in the Middle East, but also much closer to the home islands.
At this point, it is impossible to predict how the hostage crisis will ultimately affect the debate, because it is potent evidence that can be used either way. It could be used as an argument to justify revising security legislation – because, as Abe argued, "even when the life of a Japanese national is threatened overseas, the capabilities possessed by the SDF cannot be utilized to their fullest extent" under the current legislation – but it could also be used as an argument as to why Japan should not open itself up to the possibility of more overseas engagements. From a more purely political perspective, it will be interesting to see how the public views Abe's handling of this crisis, and how it could affect LDP candidates' performance in the upcoming local elections.
LDP and Komeito will step up discussion of the legislation in February, and the bills will most likely be submitted after unified local elections in April in order to shield the ruling parties from any potential fallout. Ironically, the LDP's platform for the local elections focus on Abenomics, womenomics, regulatory reforms, and revitalizing local economies (again). The LDP shows no intention of making the security issue a matter of public debate – another iteration of Abe's strategy where he uses his economic policies to win the public, then channels that political capital into dealing with Japan's increasingly challenging security environment. As Abe has side-stepped offering a policy statement at the opening of this Diet session, one can only hope that the LDP will honor Chief Cabinet Secretary Yoshihide Suga's promise that "the ruling parties will finalize their stance, submit the bills to the Diet and obtain the public's understanding while holding debates."