ASEAN to Intensify South China Sea Response Amid China Concerns
Grouping to accelerate efforts to conclude an elusive code of conduct.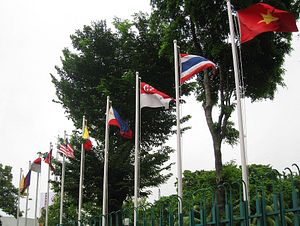 ASEAN will intensify efforts to conclude a code of conduct in the South China Sea under Malaysia's chairmanship amid growing concerns from some members about land reclamation activities there, Malaysian Foreign Minister Anifah Aman said yesterday.
"The ministers instructed senior officials to intensify efforts towards achieving the full and effective implementation of the Declaration on the Conduct of Parties in the South China Sea (DOC) and work vigorously towards the early conclusion of the Code of Conduct (COC) on the South China Sea," Anifah said at a press conference at the end of the annual ASEAN Foreign Ministers' Retreat held in Kota Kinabalu, Malaysia this year.
Malaysia is hosting ASEAN-wide meetings this year as it holds the grouping's chairmanship for 2015. While it is a claimant in the South China Sea disputes, it is known for adopting a traditionally quieter approach relative to Vietnam and the Philippines.
Anifah added that he had instructed Thailand, as country coordinator for ASEAN-China relations overseeing the COC, to "increase the frequency" of the meetings between ASEAN and China so that the issue can be resolved and progress can be made in other aspects of ASEAN-China relations. Progress on the COC is important "[s]o we can conclude and have early harvest and to proceed further on other issues of importance especially in trade and bilateral relations between ASEAN and China," Anifah said.
Asked whether China had set a date yet for the next round of talks for the COC and whether ASEAN could press forward on the issue without Beijing, Anifah said this was not possible and insisted that China had been "very positive" about the matter. "It is two parties. We have to have this between ASEAN and China. ASEAN alone is not functional. It does not work out that way. But China has been very positive about it," he said.
Last week, Beijing dismissed Philippine complaints about Chinese land reclamation efforts in the South China Sea, saying that "small countries should not make unreasonable demands."
Meanwhile, Singapore, which will take over from Thailand as the country coordinator for ASEAN-China relations in August, stressed it would try its hardest to deliver on a COC.
"A number of countries raised the issue very strongly because they felt that the progress on the COC was a little muted compared with the way land reclamation was being carried out," Singapore Foreign Minister K. Shanmugam said.
"It's our common goal to try and do as much as we can to try to get a proper document on COC," he added.
Kyodo News cited an Indonesian official as saying that the next senior officials meeting on the COC was to be held in April in China, but Beijing had yet to fix the date. The last meeting was in October 2014 in Bangkok.
ASEAN has been trying to conclude a COC since the DOC was first inked back in 2002, but its efforts have been frustrated thus far, which some say is due to deliberate stonewalling by Beijing as it shores up its own claims in the South China Sea.
Anifah also said that "the retreat shared concern raised by some foreign ministers on land reclamation in South China Sea." Though Anifah named neither the ASEAN states which raised the issue nor the country that was pursuing land reclamation, a few Southeast Asian nations have been outspoken about Chinese land reclamation activities, most notably Vietnam and the Philippines, as The Diplomat has reported previously.
Meanwhile, in a statement at the end of the meeting, Philippine Foreign Secretary Alberto del Rosario warned that if ASEAN fails to address Chinese land reclamation efforts, the inability to address a critical issue in the grouping's "own backyard" would undermine its centrality and unity.
"The massive reclamation issue presents a strategic policy dilemma for ASEAN," Rosario said. "Our inaction on this would undermine the principle of centrality, since we are unable to address in a unified and collective way such a critical issue in our own backyard".
Rosario urged ASEAN "to consider reaching out to the international community to say to China that what it is doing is wrong – that it must stop its reclamation activities at once."
Last week, Rosario had emphasized ahead of the meeting that China's land reclamation activities were a concern for ASEAN as a whole, and that he welcomed the concern of fellow Southeast Asian states.