ASEAN Patrols in the South China Sea?
A US official suggests ASEAN states undertake joint patrols in the South China Sea.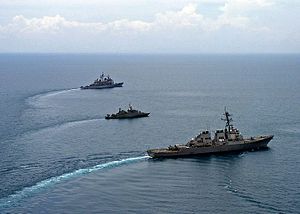 Earlier this week, the commander of the U.S. Navy Seventh Fleet made headlines when he suggested that ASEAN countries could cooperate to form a maritime force to patrol areas of the South China Sea.
According to Bloomberg, Vice Admiral Robert Thomas said on Tuesday at the Langkawi International Maritime and Aerospace Exhibition – held in Malaysia following the ASEAN Defense Ministers Meeting (which I covered for The Diplomat here) – that countries could streamline cooperation on maritime security while respecting sovereignty and coastal space, as was the case with counter-piracy efforts in the Gulf of Aden.
"Perhaps easier said than done, from both a policy and organization perspective, such an initiative could help crystallize the operational objectives in the training events that ASEAN navies want to pursue," Thomas reportedly said at a panel session. "If ASEAN members were to take the lead in organizing something along those lines, trust me, the U.S. 7th Fleet would be ready to support," he added.
Philippine Vice Admiral Jesus Millan subsequently said that the Philippine navy was amenable to Thomas' suggestion. That is no surprise. The Philippines has been publicly protesting against Chinese "sovereignty patrols" around disputed features in the South China Sea over the past few years, and its ally the United States has already been increasingly helping Manila conduct patrols to help monitor activities in its waters.
Yet as Millan himself pointed out, this is a "resource intensive initiative" and it would take all countries concerned working together to get off the ground. These ASEAN states deal with the South China Sea issue quite differently, and the idea itself may seem too controversial for some for fear of angering Beijing. The Chinese foreign ministry has already predictably responded to Thomas' proposal by saying that it hopes countries in the region will cooperate with China while countries outside the region will "maintain a neutral position, particularly on the issue of sovereignty."
How exactly might these patrols work in practice? Millan mentioned that the concept was not far from the Malacca Strait Patrols (MSP) undertaken by Malaysia, Indonesia, Singapore and Thailand. The MSP, which began in 2004, is a set of cooperative measures which include air and sea patrols between these countries to tackle piracy. But putting this cooperative structure in place will not be easy. As Millan noted, such a program would need to be governed by some sort of collaborative mechanism or standard operating procedure. There are also lingering questions about how the various countries can work together when it comes to effectively sharing equipment and intelligence. Contending claims in the South China Sea may also make patrolling some areas a rather turbulent affair.