China, India and the Sri Lanka Elections
India has ceded influence in Sri Lanka to China. Could the upcoming election change that?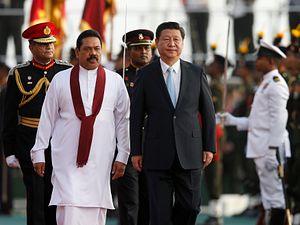 In less than a week, President Mahinda Rajapaksa of Sri Lanka will be facing the toughest political battle of his life as the country votes in the presidential elections on January 8. The Sinhala strongman, credited with ending a 30-year war against the separatist Tamil Tigers in 2009 was expected to have a cakewalk until one of his closest colleagues Maithripala Sirisena walked out of the ruling combine and mounted a credible challenge after the fragmented opposition rallied around him.
The outcome of the polls will be watched keenly in at least two foreign capitals – New Delhi and Beijing – since both have large stakes in the island nation. While India's strategic interests in Sri Lanka are vital, it also has cultural and religious ties with the Sri Lankan society going back centuries. China, a relatively new presence on the island, on the other hand, has made large strategic and commercial investments in Sri Lanka over the last decade, thanks to a decidedly pro-China policy adopted by Rajapaksa.
As the contest between Sirisena and Rajpaksa tightens with each day, there must be some worried folks back in Beijing. The Chinese presence in vital sectors of Sri Lanka is huge, and the opposition, led by Sirisena and backed by former President Chandrika Kumaratunga and former Prime Minister Ranil Wickramasinghe, is not exactly well-disposed towards Beijing.
Consider this: Between 2005 and 2012, China provided $4.8 billion as assistance to Sri Lanka. Of this only 2 percent has been in the form of outright grants; the remaining 98 percent took the form of soft loans. By contrast, a third of India's 1.6 billion dollars in assistance to the island comprises outright grants.
There's more. In the last two years (2012-14), China has committed in excess of 2.18 billion dollars, again mostly in the form of long-term loans. Most of these funds are destined for priority sectors like roads, expressways, ports, airports, power, irrigation, water supply and railways.
Rajapaksa's supporters contend that all these projects are commercial ventures and Sri Lanka had no option but to depend on Chinese loans, given that the West has largely kept away, citing alleged human rights violations during the final phases of Eelam War IV. The argument is only partially true. The Chinese have cleverly played on Colombo's fears of isolation and granted concessional loans. Critics of the Rajapaksa regime fear that the Sri Lankan government will be unable to repay such large loans in time, giving the Chinese an opportunity to turn part of the loan into equity, making them part owners of vital projects and installations.
The most glaring example cited by opponents of the Rajapaksas is the Hambantota Port Development Project. For the first phase, the Chinese provided almost 85 per cent of the total cost of $307 million. The second stage (signed in September 2012) will cost $810 million.
The interesting part is that the supply-operate-transfer agreement signed during Chinese President Xi Jingping's September 2014 visit includes a 35-year lease of four out of seven container berths to a Chinese company. It is pertinent to note that the Hambantota project is just a few nautical miles from one of the world's busiest shipping lanes, with more than 4,000 oil tankers passing by each year.
Although the Indian establishment will long regret not taking up Rajapaksa's offer to develop Hambantota, New Delhi is surely worried about the Colombo Port City Project, a massive $1.4 billion plan to reclaim 233 hectares of land from the sea along a prominent promenade in Colombo. Of the 233 hectares, the Chinese are being given 88 hectares on a 99-year lease. Interestingly, another 20 hectares will be given to China on a freehold basis. In other words, China or the Chinese company will be a part owner of the project.
In the Sri Lankan capital, the South Container Terminal at Colombo Port is operated by a China-led consortium, which has a 35-year right of ownership under a build-operate-transfer agreement. The Chinese submarine that berthed in Colombo chose to use this terminal and not the main port and so did a Chinese naval ship earlier. The Sri Lankan government has tried to assure New Delhi on this count, by pointing out that all dealings with the Chinese are on a commercial basis and have no geo-strategic importance, a claim believed by no one in India. Why should India worry about increasing Chinese presence in the Colombo port? New Delhi has legitimate concerns since at least 70 percent of transhipment business at the Colombo port is India-related.
However, for India the greater worry should be Colombo's enthusiastic endorsement of the 21st Century Maritime Silk Road and linking the development of Colombo and Hambantota Ports to the Chinese-led initiative. When Xi came to Colombo in September 2014, Beijing and Colombo announced the establishment of a Joint Committee on Coastal and Marine Cooperation to explore joint ventures in ocean observation, marine and coastal zone management, maritime security, search and rescue, and navigation security. This, Indian experts contend, would allow China a free run to carry out surreptitious maritime surveys and snoop on southern India.
The government of Narendra Modi is surely cognizant of these developments but it will take multi-directional efforts to regain the strategic space India has lost in Sri Lanka over the past decade. The previous UPA government, hampered by domestic political compulsions and its own confusion over India's role in Sri Lanka, ceded ground to China once it refused to supply military hardware to Colombo in its war against the Tamil Tigers. In contrast, post-2005 China increased its military supplies to the Sri Lankan military manifold. By a conservative estimate, more than 60 percent of the equipment in the arsenals of the Sri Lankan Air Force and Army are of Chinese origin. In the near future, the Chinese are likely to take the defense relationship to the next level by supplying Sri Lanka with fighter aircraft and warships. Although annually more than 800 Sri Lankan officers across the three services still train in Indian military establishments, the Sri Lankan military's dependency on Chinese equipment is surely something that worries India no end.
However, New Delhi would perhaps prefer to wait for the result of next week's presidential election to recalibrate its own policies towards Sri Lanka, no matter who the eventual winner is.
Nitin A. Gokhale is the author of Beyond NJ 9842: The Siachen Saga.