Graft Busters Take Aim at China's Military
Xi's anti-corruption campaign has the PLA under the microscope.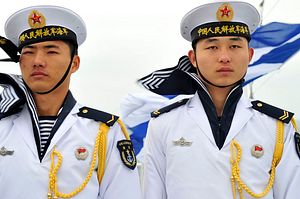 China's Minister of National Defense held its first press conference of 2015 on Thursday. Aside from a brief detour to talk about Chinese naval deployments in the Indian Ocean (which my colleague Franz covered earlier today), the bulk of the questions and answers focused on a very different theme: corruption. Defense ministry spokesman Col. Yang Yujun fielded three separate questions on anti-corruption efforts within the PLA, giving lengthy responses each time.
PLA corruption has been an issue of pressing concern for some time now, but especially since Xi Jinping assumed power. Xi has identified corruption in general as an existential threat to the Chinese Communist Party, but military corruption is a threat not only to the CCP but to the country as a whole. As General Liu Yuan put it in an April 2012 speech, "no country can defeat China … only our own corruption can destroy us and cause our armed forces to be defeated without fighting."  For this reason, as I've argued previously, anti-corruption within the PLA is an important (but often overlooked) aspect of China's military modernization drive.
The anti-corruption drive within the PLA has already claimed two high-profile "tigers": General Xu Caihou, a former vice-chairman of the Central Military Commission, and General Gu Junshan, a former deputy chief of the PLA General Logistics Department. As Zi Yang noted back in November 2014, however, in general, the anti-corruption drive was not moving forward as vigorously within military ranks as it was within the civilian realm.
That has changed. After finally bringing the hammer down on Zhou Yongkang, a former Politburo Standing Committee member, in July 2014, there were early signs that Xi had the the PLA high on his list of targets for the next phase of campaign to root out corruption.  Chinese media began running a spate of articles on the importance of having a military that is both strong and clean; that trend has continued into 2015. Earlier this month, in fact, Chinese media announced 16 cases of corruption involving high-ranking military officers (although only four of those names had not been previously linked to graft charges).
Against this backdrop, Yang explained a number of new developments in the anti-corruption campaign within the PLA. First, Yang confirmed that inspection teams from China's Central Military Commission (CMC) will inspect the Party committees associated with the PLA Navy, PLA Air Force, PLA Second Artillery Force (responsible for China's nuclear missiles), and the People's Armed Police Force. Yang said "down-to-earth inspections will be conducted this year and cover all major military organs and units."
As Yang explained later in the press conference, these inspection tours are part of a "systematic working mechanism" designed to "establish institutional guarantee for corruption prevention and punishment, and better regulate the use of power." In other words, in the military as in the civilian Party apparatus, the goal is not only to catch "tigers and flies" but to actually set up legal and institutional mechanisms to prevent and punish corrupt acts. The idea is to get mechanisms in place to sustain anti-corruption efforts for the foreseeable future.
Whether that will work is an open question. Much of the success of the anti-corruption campaign thus far has been attributed to the energies of Wang Qishan, the head of the Central Commission for Discipline Inspection (CCDI). The military, however, has its own body responsible for investigating corruption: the Commission for Discipline Inspection of the Central Military Commission (the body that will be carrying out the inspection tours Yang mentioned). Until quite recently, a lack of coordination between these two organizations has caused some to question whether the PLA is on the same page. "The CMCCDI traditionally operates independently with its own judicial system for military officers, and has been less open in revealing its corruption cases," a former military officer told Global Times.
So it's no surprise that the new anti-corruption push is coming with new efforts to coordinate between the civilian and military bodies responsible for investigating graft. Two years after the anti-corruption campaign began, the CDICMC attended a plenary session of the CCDI for the very first time, potentially signaling a new era of cooperation. Yang promised increased transparency from the military side during his press conference. "Future cases of corruption in the military will be made public in accordance with relevant regulations and the process of investigation and prosecution," Yang said, with the caveat that "military secrets" must be protected.