Interview: Ram Devineni
With Priya's Shakti, filmmaker Devineni is tacking India's rape problem with the help of a comic book heroine.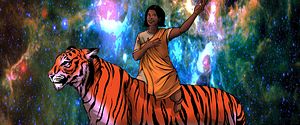 The brutal gang rape of a young woman in Delhi, India, in December 2012, had a profound affect on Indian documentary filmmaker, Ram Devineni. The incident led to the creation of Devineni's comic book, Priya's Shakti, targeted towards the Indian youth. The book is about a young female superhero who tackles rape and sexual abuse in India. But here's the twist, the comic book's protagonist, Priya, is herself a rape victim.
Devineni recently spoke with The Diplomat about his project, the use of augmented reality for the comic book, and the team's partnering with a well-known NGO for women to carry Priya's message forward to the world.
What inspired you to launch Priya's Shakti?
I was in Delhi when the horrible gang rape happened on the bus in 2012, and was involved in the protests that soon followed. Like many people, I was horrified by what had happened and angered by the indifference exhibited by government authorities at every level. There was an enormous outcry, in particular from young adults and teenagers – both women and men. At one of the protests, my colleague and I spoke to a Delhi police officer and asked him for his opinion on what had happened on the bus. Basically the officer's response was that "no good girl walks home at night" –  implying that she probably deserved it, or at least provoked the attack. I knew then that the problem of sexual violence in India was not a legal issue; rather it was a cultural problem. A cultural shift had to happen; especially views towards the role of women in modern society. Deep-rooted patriarchal views needed to be challenged.
For about a year, I traveled around India and Southeast Asia learning from poets, philosophers, activists, and sociologists working for NGOs focused on gender-based violence. Talking with several rape survivors, I realized how difficult it was for them to seek justice and how much their lives were constantly under threat after they reported the crime. Their family, local community, and even the police discouraged them from pursuing criminal action against their attackers. The burden of shame was placed on the victim and not the perpetrators. This created a culture of impunity among men.
How did your collaboration with Dan Goldman, the comic's artist, transpire?
I met Dan Goldman at a StoryCode Meet-up in New York City, and we literarily hit it off on the spot. I think he signed on the next day. Dan is a remarkable artist and philosopher – he has brought a new perspective and look to the Hindu gods. His design is based on deep respect and affection for Hindu mythology, and the power of the image. Each page is a stand-alone painting that can be mounted in a gallery. I especially like Dan's vibrant colors, which fits perfectly with earlier interpretations of the Hindu gods.
How do you intend on making augmented reality a part of the comic book?
Augmented reality is a major part of our comic book, and by scanning the comic book with the popular augmented reality app – Blippar, you can view animation, real-life stories, and other interactive elements pop-out of the pages. On a technical level, we believe the use of augmented reality will have a significant impact on readers in India who are not as familiar with this approach. There is a huge "wow" factor when readers first experience augmented reality. Our comic book will be one of the first publications to use augmented reality in India, and can help define the new frontiers of integrating books, exhibitions, and public art with augmented reality. Blippar is our augmented reality partner and recently opened offices in India. They hope to make augmented reality as popular as Facebook, and believe it can quickly take hold in India – which has a high concentration of users with smart devices.
A critical element of the Blippar app and also our social media campaign is to allow readers to put themselves into the comic book. You can take a photo of yourself with the iconic image of Priya sitting on her tiger and then post it on your favorite social media sites or email it to your friends. We want people to tell their friends: "I stand with Priya," and in return support women's equality and the struggles of rape survivors to seek justice. Of course Priya has a double meaning – the name also means beloved, so you are also "standing with love."
In India, Hinduism and its iconography are ever-present. The image of the Goddess Durga astride a tiger can be found in homes, businesses and places of worship across the nation. Our project references and transforms this image through our iconic image of Priya sitting on a tiger — Priya conquering her fears. Priya is a survivor of rape and is the catalyst for change in our comic book. Our goal is to make the image of Priya on the tiger a powerful symbol for fighting gender-based violence: Priya (Beloved) Shakti (Power)! We have worked with a group of former Bollywood movie poster painters to paint large murals from the comic book on the walls of Dharavi, Mumbai and in New Delhi, and eventually all over India.  We hope to create hundreds of augmented reality murals all over India and in major cities around the world. All of the murals have augmented reality using the Blippar app, and you can scan the walls and animation pops-out. Recently we created a new mural in Connaught Place, New Delhi, India with our NGO partner, Apne Aap. The mural was painted on the second anniversary of the horrible gang rape on the bus and brings attention to the continued problems women face in India. As you know earlier that week, a woman was raped in an Uber taxi.
Your team has partnered with Apne Aap Women Worldwide – what role will the NGO have in carrying forward Priya's message to girls and women in India and overseas? What is their plan of action?
Apne Aap is our main partner and has lots of experience dealing with gender-based violence in India for a long time. Our primary goal is to get the comic book into schools, which Apne Aap is ideal to handle. Also, they will help us paint murals all over India and the world. That is our one-year plan.
How do you think Priya's Shakti can bring about change in society and work towards eliminating rape and sexual abuse towards women?
I think the comic book is a powerful tool for educating children and teenagers about gender-based sexual violence. It is perfectly designed for them and can be read in 15-20 minutes, it is highly sharable, and it is technologically interactive. The comic book and identification with Priya will start a conversation and should be used with other materials in schools.
I think the most important thing we want to emphasize with the comic book is that change is possible. Trying to create a cultural shift is incredibly difficult, but not impossible. India is going through some remarkable and monumental changes in a short period of time. People's views have not caught up with the speed with which things are changing in India. But what was clear to me from the massive protests that happened all over India after the horrible rape on the bus is that we want things to change in our country. There were so many teenagers and young adults at those protests, and they will be the future catalyst and leaders who will define India, which is a hopeful sign.
Also, I want to make it clear that gender-based violence is not just a problem in India. Audiences around the world respond really well to Priya's story and message, so I know she can have a global appeal.
The aim of the comic book is to challenge patriarchal views and the culture surrounding them. India is a vibrant democracy with many laws in place punishing rapists, but these laws are useless unless survivors of rape feel comfortable seeking justice. As I stated earlier, this can only happen when society no longer blames the victims and puts their lives in danger. When I interviewed one gang rape survivor for this project, she was guarded by a police officer carrying a semi-automatic weapon. Her life was in constant danger, and she could never return to her hometown without protection. Hearing this, why would any women or 16-year old girl want to pursue justice knowing this is what they face? Her community and society need to support her and make sure she can pursue justice without shame.
Why did you think it was important to incorporate Hindu mythology into the comic book? Did you think it would make the story more effective? 
While traveling around India, I began researching Hindu mythology and discovered the many rich stories involving regular people and the gods. Often a favorite disciple would call on the gods for help during dire situations. So, I began formulating a new mythological tale where a mortal woman and rape survivor would seek help from the Goddess Parvati – only after she had nowhere else to turn. Although Lord Shiva and other gods get involved, eventually it is up to her to challenge people's perceptions. I wanted to create a new Indian "superhero" – Priya, who is a rape survivor and through the power of persuasion she is able to motivate people to change. In my opinion, the core essence of Hinduism is about conquering your fears. In the story, Priya confronts the tiger that has been stalking her. She turns her fear, the tiger, into her power — her shakti.  Also mythology is the story of us.
What has the feedback been like so far, primarily at the grassroots level? Or is it too soon to say?
We released the comic book at the Mumbai Film and Comic Convention in December 2014, and many people came to our booth saying they read about it in the news or were told by their friends on social media. The comic has gone viral and started a national debate in India about patriarchal views and how they are affecting rape survivors' pursuit of justice.
Please tell me a little about your augmented reality comic book exhibition; what will it entail?
In the spring of 2015, we will have a major exhibition for three months at City Lore gallery in New York City. We plan to turn the entire gallery into the Sistine Chapel and plaster the comic book all over its wall. Audiences can than scan the artwork with the Blippar app and experience augmented reality all around them. Also, the exhibition will be part of the PEN World Voices Festival of International Literature. 
What's next for you and your team? 
We are focused on getting the comic book into schools and also translating it into different languages.