Is China Building a Base Near the Senkakus?
New satellite imagery confirms that it is, with more clarification on specifics.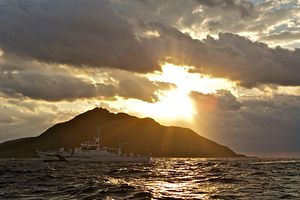 Satellite imagery analysis by IHS Jane's released on January 22 confirms Japanese media reports last month that China is building a military base on islands near the disputed Senkaku/Diaoyu islands.
The analysis, which compared images captured from October 2013 to October 2014, shows a heliport with 10 landing pads being built in the center of the main Nanji Island, part of a group of islands that are part of Zhejiang province and are located about 300 kilometers (190 miles) away from the disputed Senkaku/Diaoyu Islands.
However, in contrast to earlier media reports, the analysis shows no signs of an airstrip under construction, only existing radar and communication sites. Jane's also notes that without an airfield currently in place, the closest one would be at a base in Luqiao 380 km away from the Senkaku/Diaoyu Islands, which is home to the PLA Navy Air Force's East Sea Fleet 4th Division, 12th Regiment, which operates Chengdu J-10A fighter aircraft.
On December 22, a widely-cited report from Kyodo News had suggested that Beijing was building a large military base on the Nanji islands to improve China's readiness to respond to a potential military crisis and strengthen its surveillance over the air defense identification zone it declared in the East China Sea in November 2013.
But that report cited unconfirmed Chinese sources. Japanese officials declined to comment on the specifics of the initial report, while Chinese statements and media reports reacted with the expected nationalistic bluster, charging that Tokyo was being unnecessarily alarmist. While this quiet militarization is consistent with Chinese behavior in other instances in both the East and South China Sea, Jane's satellite imagery now offers clear, public, visual confirmation that such construction is indeed ongoing.
Japan, meanwhile, is not standing still either. In April, Tokyo announced measures to strengthen its defense and surveillance capabilities with a troop presence and military radar station in Yonaguni, 150 km (93 miles) from the Senkaku/Diaoyu Islands. It is also developing amphibious forces that will be based in Nagasaki, among other moves under consideration as signaled in its record defense budget disclosed earlier this month.
As both China and Japan engage in such activities, Jane's concludes that Beijing's base is a move that risks further escalating the "quiet military buildup" around the Senkaku/Diaoyu Islands by the two countries. Despite the famous handshake between Chinese president Xi Jinping and Japanese prime minister Shinzo Abe on the sidelines of the Asia Pacific Economic Cooperation meeting last November, as well as continued talks on developing mechanisms to manage maritime tensions, the silent saber-rattling by both sides has continued to simmer beneath the surface.