Sri Lanka Sacks Military Governor in Tamil-Majority North
Sri Lanka has replaced the ex-military governor of the country's Tamil-majority north with a civilian.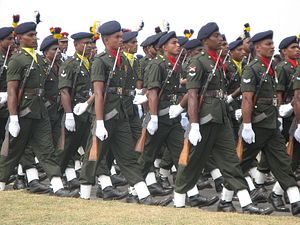 In a sign that Sri Lanka's newly elected President Maithripala Sirisena could improve inter-ethnic relations between the island country's minority Tamils and majority Sinhalese, the former military governor of the Tamil-dominated north was removed. His successor will be a civilian appointed by the Sirisena government — a "nonmilitary civil servant" as described by the Sri Lankan government website. Following the conclusion of Sri Lanka's nearly three-decade-long civil war, the country's Tamil north remained heavily militarized. The Northern Province, as the administrative area is known, was under the governorship of Maj. Gen. G.A. Chandrasiri.
According to the Associated Press, Chandrasiri has been accused of restraining the Tamil-controlled provincial administration in the Northern Province from "functioning freely and running a parallel local government." The previous president, Mahinda Rajapaksa, prided himself on having played a major role in ending the Sri Lankan civil war. He supported Chandrasiri by all necessary means in order to prevent any signs of resurgent Tamil separatism. Sirisena's move suggests that he will likely grant the Northern Province a good bit of additional autonomy going forward. The extent to which Tamils will be able to self-govern remains ambiguous.
In a pre-election manifesto, Sirisena noted that as president he would initiate a local investigation into war crimes allegations in the country's north. A United Nation's Human Rights Council (HRC) resolution called for an international investigation into alleged war crimes committed in the country's north during the civil war by both the Sri Lankan military and the Liberation Tamil Tigers of Eelam (LTTE), the primary Tamil separatist group during that conflict. According to a U.N. report, up to 40,000 Tamil civilians died in the final months of the conflict due to violence by both sides. The report specifically cited Sri Lankan government shelling as well. The LTTE were accused of, among other atrocities, using child soldiers during the conflict.
Sirisena, who was a former ally of Rajapaksa's and a member of his government before choosing to run against the former president in January's elections, has said that he would do all in his power to prevent international prosecution of Rajapaksa. As he settles into the presidency, this view might change as well. Sirisena's election victory earlier this month was in large part enabled by a larger-than-expect turnout among Sri Lanka's Tamil and Muslim minority voters. Though Sirisena, a member of the country's Sinhalese majority himself, did not run on a minority rights platform, he is seen as a positive force for change by Sri Lanka's minorities.
Chandrasiri's civilian successor, H.M.G.S. Palihakkara, will be under the spotlight as he attempts to lead the ongoing process of national reconciliation in the north. Palihakkara, a former Sri Lankan diplomat with bilateral and multilateral experience, has previously represented Sri Lanka at the U.N. HRC.