Thailand's Ruling Junta Threatens To 'Take Action' If Protests Occur
Impeachment proceedings against ex-premier could deepen political divide; spark violence.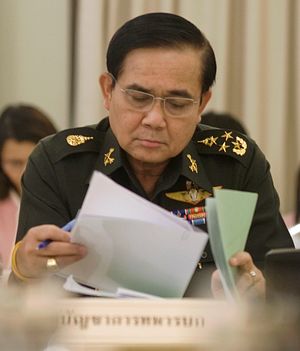 Thailand's ruling junta threatened to "take action" if protests occur in reaction to impeachment proceedings against ex-premier Yingluck Shinawatra later this week, The Nation reported Tuesday.
"People cannot protest and decide what is right or wrong… Right or wrong is up to the law. If the NLA makes the decision and you do not accept the decision and protest, I will take action," Thai prime minister Prayuth Chan-ocha said, referring to the army-stacked National Legislative Assembly.
Former prime minister Yingluck Shinawatra is expected to appear before the NLA on Friday to defend herself against impeachment charges over a controversial rice-pledging scheme which resulted in her removal before a bloodless coup in May, her lawyer confirmed earlier this week.
If the NLA elects to impeach Yingluck, some fear that the decision could lead her "red shirt" supporters to stir up protests which have repeatedly paralyzed Southeast Asia's second-largest economy since the ouster of her older brother Thaksin in 2006.
"Driving her out of politics could instigate resentment among her political supporters," Thai academic Pavin Chachavalpongpun, now at Kyoto University, told Agence-France Presse.
Even so, Prayuth said that he was confident that the government would be able to handle such a situation, particularly since martial law, which forbids political protests, is still in place indefinitely in Thailand.
Red shirt leader Weng Tojirikarn agreed that martial law meant that the red shirts are unlikely to organize violent protests, but he also said an impeachment would fuel anger that could erupt in the future and undermine reconciliation efforts.
Meanwhile, Prayuth also dashed any hope of a pardon for politicians in the interest of national reconciliation.
"The country can reconcile only when we pardon everyone first? No, it's not like that. I insist that people who commit offenses must face the justice procedure. Do not come to talk to me about amnesty," he stressed.
Three-fifths of the NLA, or 132 members, must vote in favor in order for the assembly to impeach a politician.
Before the ex-premier's case on Friday, the NLA will also hear cases against former House speaker Somsak Kiatsuranon and former Senate speaker Nikom Wairatpanich on Thursday. The duo is accused of violating the 2007 Constitution for trying to push through an amendment that would change the composition of the Senate.
Ahead of the impeachment process, NLA president Pornpetch Wichitcholchai warned that the NLA must demonstrate its impartiality despite widespread skepticism surrounding its credibility.
"The NLA must be impartial and must not be seen to be taking a particular side or having a bias against any side. This will become a shield that will protect the NLA… If we create hatred by demonstrating that the NLA makes decisions that are unjust then that's the end. Whatever follows will lack credibility," Pornpetch cautioned.
However, he also admitted that it was not possible for any result to please everyone given the country's current political divide.