In Thailand, What Does the End of Thaksin's Silence Mean?
The ex-premier's decision to break his self-imposed silence raises some interesting questions.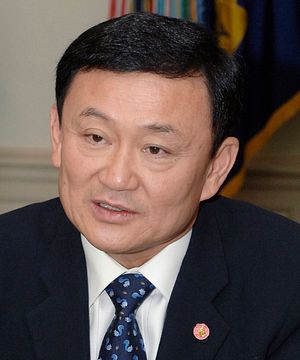 In a flurry of foreign media interviews, former Thai premier Thaksin Shinawatra broke his self-imposed silence to criticize the ruling military junta's draft constitution and democratic roadmap, claiming coup-maker and Prime Minister Prayut Chan-ocha's election timetable is a "charade" designed to prolong his stay in power.
The media blitz also coincides with rising government pressure on the exiled former leader's family's interests, signaling the delicate rapprochement that has underpinned a near two year period of stability may be coming undone.
Thaksin's critical comments were his most extensive since the military overran his younger sister Yingluck Shinawatra's elected administration in May 2014. In an interview with the Wall Street Journal, Thaksin said the draft charter aimed to create a military-steered "politburo" that would rule from above any elected government, a pseudo-democratic configuration he claimed would isolate the country in the international community. In a Reuters interview, he referred to the coup as a "crime" and said the junta lacked the "talent to drive the economy", despite its conscription of his own former Finance Minister, Somkid Jatusripitak.
The interviews, all held in Singapore, followed on a dinner party Yingluck held for a clutch of foreign journalists at her private residence in Bangkok. In that meeting, Yingluck and her Peua Thai party political allies made the case for her innocence in a pending criminal trial over her supposed failure to stop corruption in her government's boondoggle rice price support scheme. If convicted, she faces a possible decade in prison and damages as high as 250 billion baht (US$7 billion), the amount her populist scheme allegedly cost the state in losses. She and Thaksin have claimed the charges are "politically motivated."
It is not entirely clear why Thaksin chose now to break his silence. His criticism of the draft charter is widely shared across the political spectrum, with the rival Democrat party, royalist military-appointed drafters of the now abrogated 2007 constitution, and even members of Prayut's first constitution drafting committee all weighing in against articles that would give the military and its appointed proxies overarching powers over any future elected government. Thaksin was comparatively muted on a similarly anti-democratic draft charter that was voted down last year by a military-appointed reform committee, an apparent designed-to-fail process that has attenuated the junta's rule until at least mid-2017.
That raises questions about whether an apparent post-coup accommodation, where Thaksin's personal and family interests have until now been untouched by the junta in exchange for Thaksin's deactivation of his political machine, has run its course, with potential adverse implications for future stability. In his Reuters interview, Thaksin denied that he had struck a backroom deal with the military, claiming that the two sides are "not talking" and that he has "never telephoned" anyone in the junta. At the same time, the ex-premier proposed to open "talks" with the junta on the country's political future. Prayut rejected the offer out of hand.
Thaksin's offer and Prayut's rejection, however, are both more spin than reality. According to a foreign mediator familiar with the situation, Thaksin has met privately on at least one occasion, if not more, with Defense Minister and second-ranking junta member Prawit Wongsuwan in Singapore. Thaksin also met last year with junta representatives in London, where the two sides discussed the contours of a possible democratic transition with the caveat that a Shinawatra family member would be barred from assuming the premiership. Thaksin apparently rejected those terms, according to diplomatic sources who speculate Thaksin may aim to promote his media owner son, Panthongtae Shinawatra, as his Peua Thai party's next leader.
The same envoys suggest the junta's now rising pressure on the Shinawatra clan's financial interests could be a punitive response to those apparently failed talks. Apart from the pending criminal court case against Yingluck, Panthongtae was recently summoned for Department of Special Investigation police questioning over possible money laundering related to 9.9 billion baht worth of state bank loans allegedly made at Thaksin's behest while he was in power in 2003 and 2004. The investigation, first launched in the aftermath of the 2006 coup, also threatens to ensnare the private secretary of Thaksin's former wife Potjaman na Pombejra.
A court ruling that confiscated US$1.4 billion of Thaksin's personal assets in February 2010 was the first spark behind the debilitating 'Red Shirt' street protests that were initially mobilized against "double standards" in the judiciary. The subtext of the junta's corruption allegations against Yingluck is that the family recouped some of that lost lucre through deliberately overlooked slippage in the rice price scheme, including through deals with aligned private trading companies. Yingluck has denied all corruption allegations surrounding the scheme, including during her self-promotional dinner party for foreign scribes.
If Yingluck is convicted and ordered to pay multi-billion dollar damages, resulting in the confiscation of her personal assets, earned mostly while working for Thaksin's private companies, analysts wonder if Thaksin will ramp up resistance under a "pro-democracy" banner. In his Wall Street Journal interview, Thaksin predicted without elaborating that 2016 would be an "eventful, pivotal year". There are questions, however, about his ability to remobilize his Red Shirt protest group amid firmly enforced bans on political assembly and heightened scrutiny of circuitous cash flows to his known organizers and supporters.
As such, Thaksin's criticisms are for now more likely posturing than threat, a bid to remain relevant with his past grass roots supporters and to deliver a veiled threat that decisions and investigations against his family's financial interests could yet be met with a destabilizing response similar to the chaos seen in 2010. Any attempted mobilization, in Bangkok or upcountry, would draw a fast and strong military response, giving the junta new justification to clamp down on liberties and delay new polls. While it's doubtful Thaksin will pursue new confrontation until the royal succession is decided, with his history of erratic and emotional responses when his financial interests and personal pride are at stake, it is a scenario that can not entirely be ruled out.