Agricultural Reforms in Japan Pave the Way for TPP
New reforms curtail the strength of Japan's powerful farm lobby, Japan Agriculture Cooperative.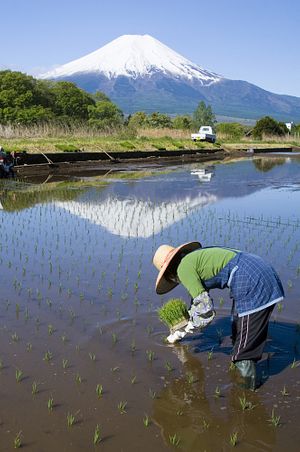 Last October, Japan's powerful farm lobby, the Japan Agriculture Cooperative (JA), still had the clout to stall Trans-Pacific Partnership (TPP) ministerial negotiations between Japan and the U.S. over tariffs on sensitive farm products. However, recent reforms tip the balance of power firmly in favor of the government, accelerating JA's slow demise and paving the way for greater market liberalization and deregulation in Japanese agriculture.
While it was quick and easy to fire the first and second arrows of Abenomics – monetary easing and government spending – Prime Minister Shinzo Abe has long struggled to define the third arrow of Abenomics, "structural reforms." With this concrete and tangible victory over an entrenched interest, it appears that he has finally found his footing.
The government plans to abolish the Central Union of Agricultural Cooperatives (JA-Zenchu)'s authority to supervise and audit agricultural cooperatives, destroying JA-Zenchu's "source of power." JA-Zenchu was vested with the responsibility to ensure uniform standards throughout the country, but this pyramid structure had led to stagnation and lack of innovation in the base. By March 2019, JA Zenchu will become a general incorporated association and co-ops will have the option of being audited by independent accountants. JA Zenchu will also lose some 8 billion yen ($67 million) that it collects in dues from regional cooperatives and its privilege of face-to-face meetings with senior agriculture ministry officials.
These reforms, though dramatic by the glacial standards of Japan's agricultural lobby, are still a compromise. The reform plan will allow JA-Zenchu to maintain its status as representative of regional agricultural cooperatives and retain their coordinating function. Furthermore, these reforms do not address the high-cost structure of the National Federation of Agricultural Cooperative Association (JA Zen-Noh), which ships and markets farmers' produce. JA Zen-Noh is criticized for selling goods, such as fertilizers, to farmers at much higher prices, which the farmers purchase because of ties with the organization.
The aim of these government reforms is to strengthen regional agricultural cooperatives by freeing them from their rigid bondage to JA-Zenchu. As Kazuhito Yamashita, a senior fellow at the Canon Institute for Global Studies, said, "If the number of unnecessary institutions decreases, it will help regional cooperatives develop their own uniqueness." Greater rivalry will force JA co-ops to evolve and adopt best practices from other co-ops. With the markets about to be opened to cheaper farm imports when the TPP takes effect, it is not a moment too soon for Japanese farmers to seek out ways to be more competitive.
Zenchu's defeat will help facilitate TPP negotiations. Agriculture (along with the auto industry) has long been a sticking point in Japanese trade liberalization. The area of agriculture in particular was considered taboo because Japan purportedly needs to achieve self-sufficiency. But recently there have been some signs of progress. In January, Japan offered to import more rice from the U.S. while keeping existing tariffs in place, and the U.S. agreed to stop demanding that Japan ease its car safety standards. Early in February, progress was made on issues such as state-owned enterprises, environmental protection, and investment. Japan and the U.S. held additional talks to discuss agriculture and the auto industry, hoping for a breakthrough that will move forward talks between all 12 of the participating economies. Dismantling JA is a critical and much-delayed first step towards this goal.
While the agricultural industry had held up TPP talks for a long time, Japan and the U.S. are now hoping for a ministerial session as early as March. President Obama is pushing for "fast track" approval in Congress to conclude the TPP within the year. The stakes are particularly high for Washington — whether the Obama administration's "pivot" to Asia succeeds or not will be largely judged on the basis of whether the TPP is concluded or not.