Are the Ukraine Crisis and ISIS Threatening the Pivot to Asia?
The chairman of the House Seapower and Projection Forces subcommittee shows concerns over the U.S. pivot to Asia.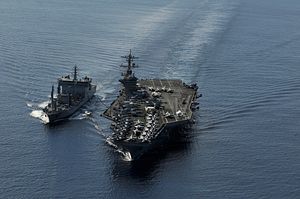 The chairman of the U.S. House of Representative's Seapower and Projection Forces subcommittee, Representative Randy Forbes (R-Virginia), is worried that the ongoing fight against the terror group Islamic State, as well as the current fighting in Ukraine, could divert resources from the U.S. military's pivot to Asia, according to dodbuzz.com.
"One of the major components to the Pacific pivot is the relationship we have with our allies in terms of all coming together. (…) Devoting credible resources to the capabilities required to ensure U.S. presence in Asia is the only way to ensure that the 'rebalance' is more than just a slogan. (…) Both our allies and our competitors judge our commitment to the Asia-Pacific region by the capabilities we maintain," Forbes states.
On the wording of re-arranging the U.S. global force posture, he observes: "Enhancement is a better word [than pivot or rebalance] because we have the Russian concern and of course ISIS and Africa that we are concerned with.  Things don't happen singularly they happen in multiple situations. That is why we have to look at why we have to increase presence."
Congressman Forbes is also worried that the Pentagon's recent move to close the Air Sea Battle Office (ASBO) and drop the Air Sea Battle name can send the wrong signal to allies in the region. "I worry because taking away the AirSea Battle concept is sending a huge message to them about whether we are going to be players or not," he emphasizes.
Forbes further notes that, "there are A2/AD defenses that we need to penetrate. It is not just China but Iran and all over the globe…   The need is still there I just really question whether we have the right resources to get what we need."
However, dodbuzz.com quotes an unnamed navy official who underlined that "there is nothing to suggest that the Pacific rebalance will not proceed as planned. The CNO (Chief of Naval Operations) has said we're going to do a 60–40 force structure rebalance there by 2020. There is nothing to indicate that won't happen." The new White House National Security Strategy, released last week, also reiterated its commitment to the Asian pivot.
Deputy Assistant Secretary of the Navy for Budget Rear Adm. William Lescher provided more details: "There are an additional 30,000 sailors and 27,000 Marines forward ashore, including over 40,000 sailors and Marines in East Asia and the Pacific.  Consistent with the QDR [Quadrennial Defense Review], you see 51 ships deployed to the Pacific and 34 to the Middle East, reflecting the directed strategic focus in these regions."
Chief of Naval Operations, Admiral Jonathan Greenert, is also quoted in saying that so far the re-deployment of U.S. naval forces to the Pacific theater of operations is proceeding as planned: "60 percent represents the percentage of our Navy that is home-ported west. The idea is it's easier to rotationally deploy or to react if you have to, if you're home-ported where you believe your focus of attention should be. We're on track for that.  As we build ships, we look toward home-porting them to the West and keeping that process going, because it's not just numbers; it's also the numbers with the most capability."
DoD Buzz also paraphrases a statement by Congressman Randy Forbes saying "that U.S. planners and military developers should not base their decisions upon interpretations of Chinese intention or motivation but should instead ground their calculations purely according to Chinese military capability." I think this is an ill-informed statement and lacks insight into the dialectical nature of military competitions. It also is a recipe for wasting precious taxpayer dollars.  I would suggest Congressman Randy Forces read this article ("The One Article to Read on Chinese Naval Strategy in 2015") to realize a few additional issues with his statement above.