China's Anti-Corruption Org Seeks 'Hidden Tigers'
Plus, China's travel rush, legal reforms, the South China Sea, and China in the Middle East. Friday China links.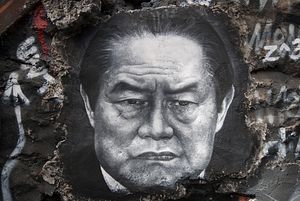 Your weekly round-up of China links:
China's top anti-corruption body, the Central Commission for Discipline Inspection warned that there are high-ranking corrupt officials who remain "very well hidden" within the Party. The CCDI, writing on its website in a piece picked up by Xinhua, said that the cases of Zhou Yongkang and Xu Caihou, ousted high-ranking officials who amassed their own patronage networks, provide an indication of the danger. "The tigers we aim at nowadays are deceitful, and tend to lay low," the CCDI said. In essence, the CCDI has openly admitted that corruption in top-level Party ranks is a serious problem – and promised that there are more high-ranking officials to be toppled. Zhou and Xu won't be the last tigers taken down.
In other news, the Chinese New Year holiday ended this week, which meant the world's largest human migration took place in reverse as millions traveled back to work after spending the holiday with their families. Matt Sheehan of the Huffington Post provides an insider's look at one particularly grueling journey: the 39 hour train ride from Beijing to Urumqi. Sheehan's piece, in addition to being a snapshot of what a train ride during China's busiest travel season looks like, has some choice quotes from fellow passengers that gets to the heart of current Han-Uyghur tensions.
China's Supreme People's Court just publicly released its Fourth Five-Year Reform Plan. The Supreme People's Court Monitor (and occasional Diplomat contributor) Susan Finder, has the scoop. The reforms cover a broad range, from attempts to reduce local-level interference in court cases to promises to provide more rights for defendants and their lawyers.
Moving on to foreign affairs, a lot of ink has been spilled lately over the meaning of China's South China Sea land reclamation projects (including here at The Diplomat). On his blog South Sea Conversations, Andrew Chubb provides some much needed context by looking at "what's not in the latest photos of China's Spratly island construction." His list of points that should be receiving more attention in this discussion:
The scoreboard: China is still well behind
The company: reclamation is part of most claimants' Spratly strategies
The history: it's not new, and that does matter for policy responses
The regional context: easing tensions
The environment: an unfolding tragedy
Finally, the China Policy Institute of the University of Nottingham is hosting a fascinating series of blog posts on China's role in the Israel-Palestine conflict. The pieces, by scholars from around the world, run the gamut of interpretations, from positing "A positive role for China in the Israeli-Palestinian conflict" (by Yiyi Chen of Peking University's Institute for Hebrew and Jewish Studies) to analyzing "China's interests in preserving the Israeli-Palestinian impasse" (by Robert Bianchi of the University of Chicago Law School). For a general overview of China's Middle East policy, however, I recommend this piece by Meron Medzini, which explores why China is being drawn into "the cemetery of great powers."