Dire Warnings on Climate Change for Australia
Local scientists predict severe effects for the country, in a warning likely to be lost on an embattled PM.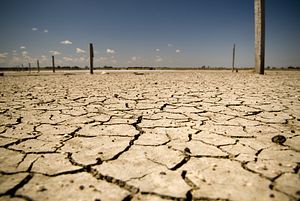 The news passed relatively quietly last week but the CSIRO and Australian Bureau of Meteorology released their most comprehensive report to date on the possible effects of climate change on Australia. Predictably, those effects will be bad. In fact, Australia may be even worse off than elsewhere in the world.
The headlined outcome was the worst-case scenario temperature rise: 5.1 degrees by 2090, as opposed to 4.8 degrees across the globe. The actual rise may be lower than that, but even 2 degrees will have terrible effects in Australia and its seas. The Great Barrier Reef might suffer most of all as the rising sea levels render the ocean too acidic to support coral reefs, which are largely calcifying.
This is not the first dire report, of course, but it is extensive, "drawn from observations and from simulations based on up to 40 global climate models and four scenarios of greenhouse gas and aerosol emissions during the 21st century." And its predictions for Australia are a worry. In précis, the effects will be: higher overall temperatures, more hot days and fewer cold, sea level rises and more acidic seas, fewer but stronger cyclones, less but heavier rain, and soil degradation. Infrastructure will be badly affected. Sea levels have already risen 20 centimeters since 1900 and Australia has seen seven of its ten hottest years ever recorded since 1988. 2013 was the hottest. This is, it seems, good evidence that despite the vagaries of the Australian climate, which are legion, some level of man-made climate change has already occurred.
The solution offered is about as surprising as the outcomes that were predicted: Cut back on global greenhouse gas emissions. The report, in fact, was prepared with the natural resources sector in mind. And herein lies the problem. Australia is not interested in any of this. The Abbott government cut the carbon tax last year in July. Though certain noises are made about the environment, Australia does now, it is generally agreed, have a rather backwards climate policy and a prime minister who is a big fan of the use of coal. At press conference Monday, an embattled prime minister defending his leadership argued for the cuts his budget put forward, saying anything else would be "intergenerational theft," leaving future generations to shoulder the burdens of the previous. Those who had been following the release of the report noted his words with especial bemusement.
As we noted in November when writing about Foreign Minister Julie Bishop's UN Security Council address, Australia now lags behind the U.S., U.K. and even China in its commitments to lowering emissions, even when the results of those emissions will hit this nation harder than any of the others. As yet, Tony Abbott has not publicly acknowledged the report but given it came out the same week he knighted Prince Philip, that is perhaps not surprising. He is not a man well known for talented public multitasking and had his hands full trying to explain his actions and deal with furious back benchers. The next global climate summit, to be held in Paris, is rapidly approaching and it might be nice if Australia's government offered an idea of how it planned to approach the post-2020 period.
Helen Clark was based in Hanoi for six years as a reporter and magazine editor. She has written for two dozen publications including The Diplomat (as Bridget O'Flaherty), Time, The Economist, the Asia Times Online and the Australian Associated Press.