How America's New Secretary of Defense Will Deal With China
Plus, trouble in Myanmar, defending the Silk Road, and China's cyber theme song. Friday China links.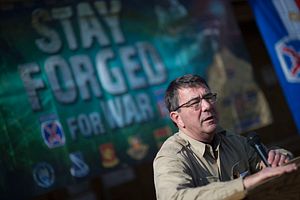 Time for your weekly round-up of China stories:
Ashton Carter was officially confirmed as the new U.S. secretary of defense on Thursday. To mark the occasion, The Diplomat offers a collection of links hinting at what approach Carter might take to military relations between the U.S. and China.
A December 2014 article from Defense One pointed out that Carter was an advocate for "the pivot to Asia" before the term existed. Adam Tiffen writes that Carter "knows Asia. He has been an advocate for the prioritization of Asia since the late 1990s. He wrote a proposal with former Defense Secretary Bill Perry, under President Clinton, that advocated the United States develop strategic military relationships in places like Asia to prevent future regional conflicts."
Back in 2007, Carter (along with Jennifer C. Bulkeley) wrote a short piece outlining how the U.S. should respond to China's military modernization efforts. Carter's suggested approach then bears many similarities to the Obama administration's current efforts. To preserve its interests vis-à-vis a more militarily capable China, Carter wrote, the U.S. should "invest in transformational U.S. military capabilities"; "maintain and expand U.S. alliances in Asia" (including "pursuing deeper military partnerships with … India and possibly Vietnam"); "ensure that [the U.S.] military has the capability to defend Taiwan"; and "expand military-to-military cooperation" with China.
For a more recent take, Roll Call outlines Carter's view on China's cyber espionage (and a number of other subjects) as expressed during his Senate confirmation hearing. Carter recommended that the Pentagon "should continue to take strong actions to address China's use of cyber theft to steal U.S. companies' confidential business information and proprietary technology." Carter added that "military involvement in such theft raises additional concerns that misunderstandings about China's intentions could result in unintended escalation between our countries."
And what does China think of Carter? A piece run last December by China Daily sees the new secretary of defense as having "a cooperative approach to China." China Daily noted that Carter is a defender of the U.S. "rebalance to Asia" but also highlighted Carter's avowed commitment to expanding military-to-military exchanges with China.
In other news, China is growing increasingly concerned about fighting between rebels and government forces in northern Myanmar, near the border with China. As Reuters reports, 47 government troops have been killed this week alone in the fighting, with another 73 wounded. China is especially worried about refugees from Myanmar pouring over the border. In a press conference on Tuesday, Foreign Ministry spokesperson Hua Chunying confirmed that "out of safety concerns, many Myanmar residents living along the border have crossed the border into China's territory, and they are now properly settled." She also urged "relevant parties in northern Myanmar" to come to a peaceful settlement. "[T]he security and order of the Chinese side of the boundary shall not be impaired," Hua stressed. Today, Reuters quoted Hua as saying China wants the refugees to return to Myanmar as soon as possible: "We hope that all sides in Myanmar can work hard with China to quieten [sic] down the situation and return the border as soon as possible to peace and tranquility so these border people can go home."
Elsewhere, Xinhua responded to critics who see the Silk Road as a bid for regional dominance. "Rather than seeking regional dominance, China's plans to build an East-West trade network across the Asian continent are pacifist in nature because of their inclusiveness and aim at mutual benefit," the piece begins. Xinhua reaches back to the history of the original Silk Road to bolster the oft-made claim that China's exploits abroad were always aimed at peaceful trade, not at conquest. "Instead of seeking to establish an enlarged military presence that is likely to complicate the regional security situation, China's proposals are purely about infrastructure, trade and economic cooperation," Xinhua says.
Finally, to end your Friday on a lighter note: China's Cyberspace Administration now has a theme song. A video of the Cyberspace Administration's choral group performing at a Spring Festival gala has gone viral online (although not in the way Beijing probably intended — most commenters unabashedly poked fun at the over-the-top number). One sample of the lyrics: "Internet superpower! Glorious dreams are on the web." Check out the video here, with English subtitles courtesy of Tech in Asia.