India-Nepal Energy Initiatives Hit Political Roadblock
Nepal's constitutional impasse looks set to delay additional progress on vital energy agreements.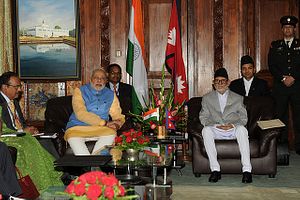 India has spent more than a decade coming to terms with the potential of its neighbors. Nepal is a case in point. It was surprising to observe that despite having a unique relationship of friendship and cooperation with open borders and strong people-to people-contact, Indian Prime Minister Narendra Modi's August 2014 visit to Nepal was the first by an Indian head of government in 17 years. This was surely evidence of the neglect of Nepal shown by his predecessors.
Although bilateral trade was $4.21 billion in the 2010-11, it remain heavily weighted in favor of India. By 2013, according to Nepal's state-run Trade and Export Promotion Centre, Nepal's deficit with India stood at $4 billion, up from $3.1 billion a year earlier. Exports from Nepal to India have in fact been falling.
For relations to advance, it is important therefore not to delay further the joint hydropower projects, which have been held captive mostly by decades of armed conflict in Nepal, which has devastated its economy.
For this reason, announcements made before Modi's 2014 visit offered cause for considerable optimism. Both India and Nepal used the visit to present their own energy proposals. Many of the proposals focused on Nepal's considerable hydroelectric potential, with an economically and technically viable potential estimated at around 40,000 megawatts. At present, Nepal has developed just 680 megawatts of that and is having trouble meeting its own domestic energy needs. Modi's visit sought to give a boost to a number of joint hydropower projects that had been stalled. India, of course, is dealing with its own power shortages.
Within 45 days of Modi's visit, an agreement was initialed, covering "cross-border electricity transmission, grid connectivity and power trade between India and Nepal." A formal signing followed on October 21, with Indian Power Secretary Pradeep Kumar Sinha calling it an "historic achievement."
Meanwhile, separate project development agreements sought to resuscitate projects that had been stalled, in some cases for many years. A case in point is the 6,720 megawatt Pancheshwar Multipurpose Project, which was first announced in 1996. In another agreement, the 900 megawatt Arun III project was to be revived after six years. Nepal also finally approved an agreement to develop the 900 megawatt Upper Karnali Project.
Pipelines
Meanwhile, India and Nepal sought to move towards an agreement on the Raxaul-Amlekhgunj Project, an oil pipeline that has the potential to halve the cost of petroleum products imported by Nepal from India. That is significant, given Nepal's dependence on India for petroleum products. The pipeline would have other benefits, such as alleviating traffic congestions and avoiding the pilferaging and adulteration that can occur during trucking. It would also help break the power of the trucking syndicates, which help push up prices.
Unfortunately, the agreement appeared to be stalled on haggling over duration: The Indian side wants a 15-year term, while Nepal is willing to commitment to purchases for just five years.
Political Impasse
Those relatively minor contractual disputes pale in comparison to the obstacle presented by Nepal's political impasse, which turns on the ongoing saga of the country's attempt to write a constitution. With the self-imposed deadline consistently missed, talk now is of May 29 being the new date for achieving an agreement. For as long as Nepali policymakers are stumbling at this fundamental step, it suggests that a further breakthrough on the potential energy partnership between India and Nepal may have to wait.
Manish Vaid is the Junior Fellow with the Observer Research Foundation, having research interest in energy policies and geopolitics.