India, China React to Nepal's Constitutional Crisis
As Nepal's constitutional crisis continues, New Delhi's response could present an opportunity for China.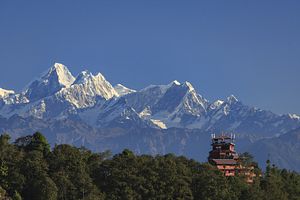 As The Diplomat has reported recently, Nepal's constitutional crisis shows no signs of abating any time soon. After the promulgation of a constitution that was seen as unrepresentative by around half of the Nepalese population, primarily the Madhesis and Tharus of the Terai (southern plains), the country appeared to be on the brink of a schism. Nepal's latest constitution is its sixth attempt at a national guiding document and is the result of a Constituent Assembly that was first convened in 2008.
The new constitution takes the place of the 2007 interim constitution, which was adopted after Nepal moved away from decades of monarchy. The controversy over the current constitution stems from its crystallization of the advantages of Nepalese elites based in Kathmandu and the "hills" of the north while disenfranchising the historically disadvantaged Madhesis and Tharus of the Terai. Critics say that under the new constitution, these groups would remain underrepresented in the national legislature.
India, traditionally an influential power in Nepal and a "big brother" of sorts to previous governments in Kathmandu, most prominently the former kings when the country was a monarchy, reacted by expressing its disapproval of the new constitution. Nepali disapproval of India's reaction intensified when New Delhi imposed an unofficial blockade of critical goods and supplies across its border with Nepal. India maintains the blockade is unofficial and truck drivers are simply hesitant to cross the border into the unstable and turbulent Nepali plains.
The Times of India reports that India's reaction to the crisis may actually have had the ironic effect of uniting Nepalese interest groups that traditionally disagree with one another. The Nepali Congress (NC), Communist Party of Nepal-Unified Marxist Leninist (CPN-UML) and Unified Communist Party of Nepal-Maoist (UCPN-M), who together represent a majority in Nepal's constituent assembly, have come together to oppose New Delhi's approach. India's move to support Nepal's disenfranchised Madhesis has cost it goodwill and political capital with the country's traditional elites and power-brokers.
China, Nepal's other major neighbor, has been relatively muted as the constitutional crisis has played out, taking more of a "wait-and-see" approach to the whole affair. However, after some in Nepal's Terai community began burning the Chinese flag during recent protests, Beijing has stepped in to make its preferences clear. As Prashant Jha reports over at the Hindustan Times, Beijing has told "Nepal's Tarai leadership … that Beijing is not 'anti-Madhesi' and believes that for a stable Nepal, Madhesis have to be accommodated in a political settlement."
Additionally, Jha notes that, according to Madhesi leaders, India and China are coordinating on the Nepali crisis to an extent, though details remain sparse on the extent of New Delhi and Beijing's cooperation. Though Nepal has historically been closer politically to New Delhi, Beijing has sought to increase its influence there. For example, following the devastating earthquakes in Nepal earlier this year, Beijing sent considerable humanitarian assistance.
Beijing remains skittish about intervening in the specifics of Nepali politics. Its foreign policy remains predicated on non-interference. All China has said for the moment is that it would like to see a stable and peaceful Nepal. Jha notes that a "top political source" notes that China has said it "wants a peaceful and stable Nepal, and for a stable Nepal, Madhes has to be accommodated."
India's unofficial blockade of Nepal does present an immense strategic opportunity for China, which could use the vacuum of critical supplies to airlift fuel, medical supplies, and other goods to Nepal. Recent reports suggest that Indian trucks are beginning to trickle back into Nepal, but the volume of inbound supplies remains low.